#1038 Kinichi Shigeno is a well known, Japanese-born ceramic artist based in British Columbia, Canada. You can get an idea of the selling price of his pottery here: You can see that the two cups alone justifies more than this price. The decanter bottle is worth about $600 and the two cups over $120 each. The size for the bottle is 18 x 6.5 and the cups 6.5 x 5 cm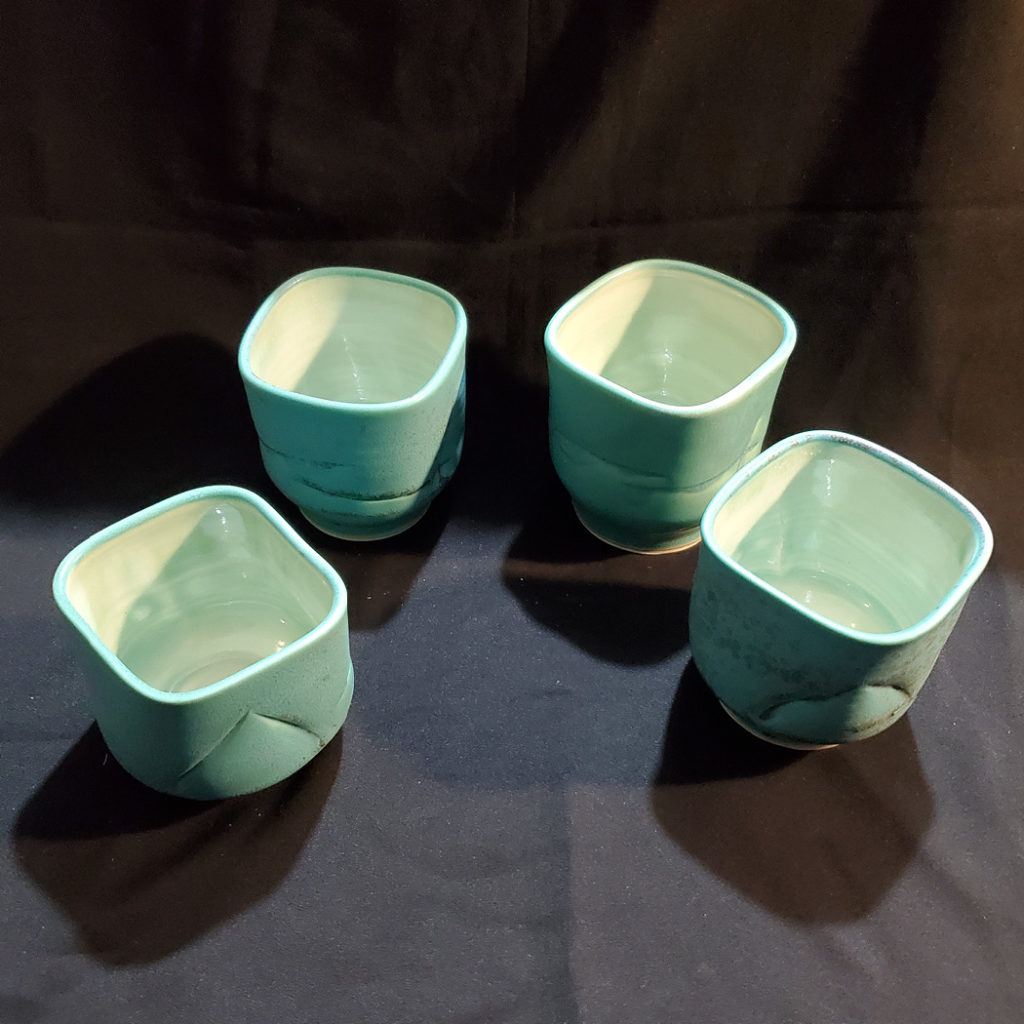 #1100 Four cups of mugs signed Thompson '97. They are about 7.5 x 8 cm with slight variations. Very artistic and attractive design with wonderful colours. I have not identified the artist.
#1278 This piece is an example of how Mirta Morigi has always been drawn to bright colours and contrasts. More recently she has been adding "delightful beasts" to her work as you can see here. If you look closely at the image you will see much about is striking including the textures. At once it has much in common with pottery of hundreds of years ago and is also very modern. This plate measures 25 x 5 cm.
Mirta Morigi was born in Faenza where she studied at the Institute of Ceramic Art and where she opened her workshop in 1972. Mirta took part to several international competitions and exhibitions and her works are displayed in well known museums both in Italy and in the world. In her lovely bottega, set in the town centre of Faenza, Mirta allows visitors to have interesting experiences making ceramics.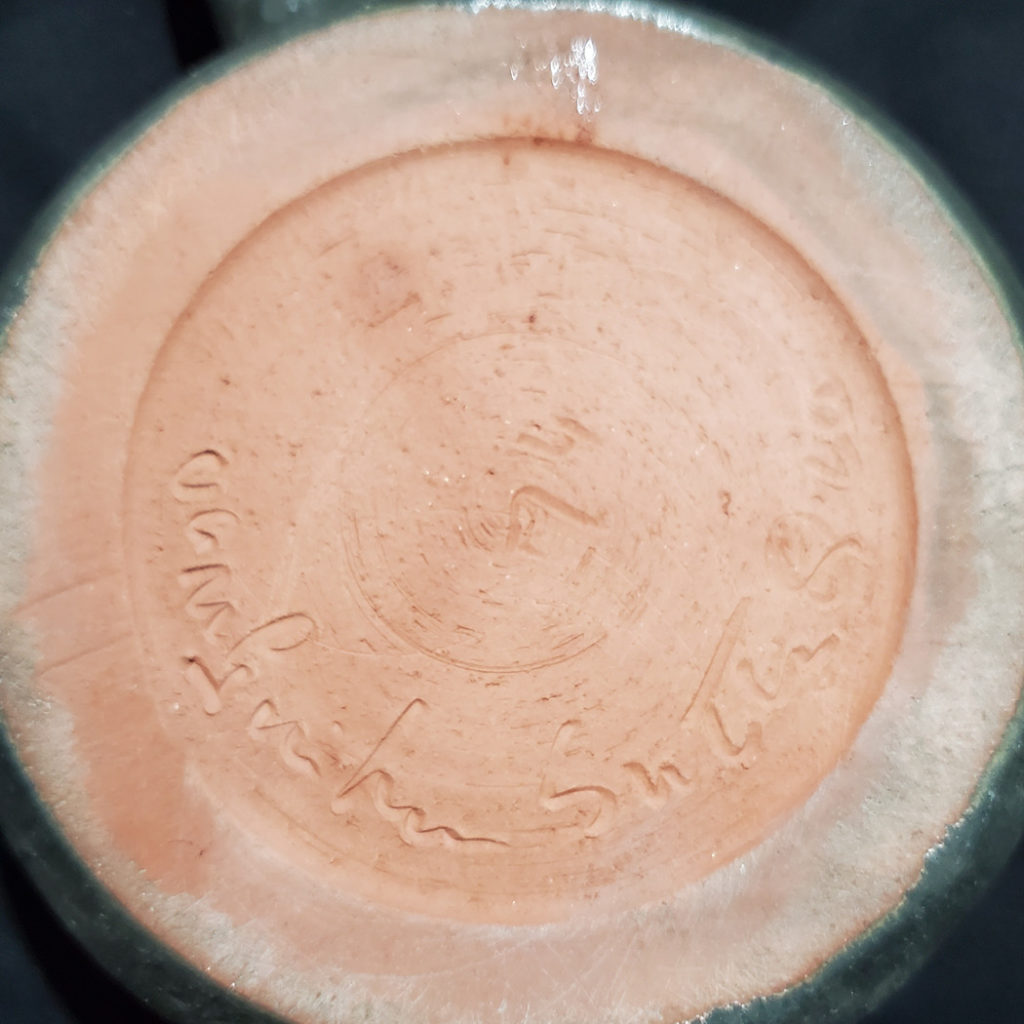 #1211 Anke Van Ginhoven, originally from the Netherlands, has lived in Sutton Quebec since 1967. She is a member of the Arts Sutton Gallery and the Tour des Arts. Anke has a master's degree from the University of Quebec, a bachelor's degree from the École des Beaux-Arts in Montreal, as well as from Amsterdam.
She studied papermaking in Japan, jewelry making in Mexico and the United States. Ceramist, tapestry artist, jeweler, painter and sculptor. Her work has been in multiple solo exhibitions, in Japan and New Brunswick, as well as in the Museums of Fine Arts of Montreal and Quebec. Endowed with boundless imagination, each of her pieces is as unique as the artist herself. These pieces made early in her career in 1973 show a bold mid century aesthetic. They are 18.5 x 11.5 x 5 cm.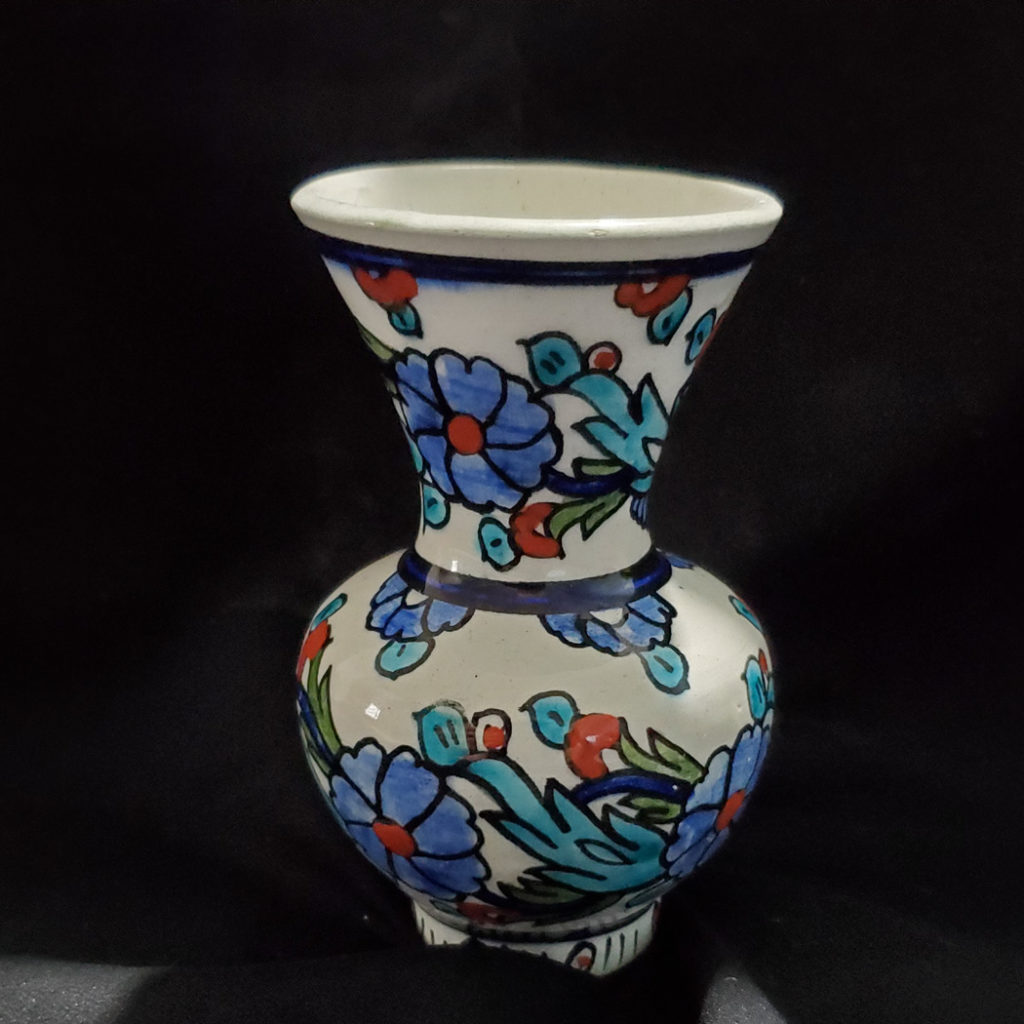 #1214 Attractive small Iznik vase. It measures 10.5 x 6 cm. There is a small fleabite on the rim and it is priced accordingly.
The word "çini" or "cini" is somewhat synonymous with ceramic in modern Turkish, but it strictly means Iznik pottery in some contexts. However historically there was a difference in usage. While the Turks called the pottery used as household ware as "evani", they named the Turkish tiles as "kaşi". The word "cini" can be translated roughly as "something from/related to China" and has gained its meaning in a relatively late period.
#1439 These are traditionally decorated Iznik candle holders. They are very likely Turkish. They measure 5.75 x 9.75 cm.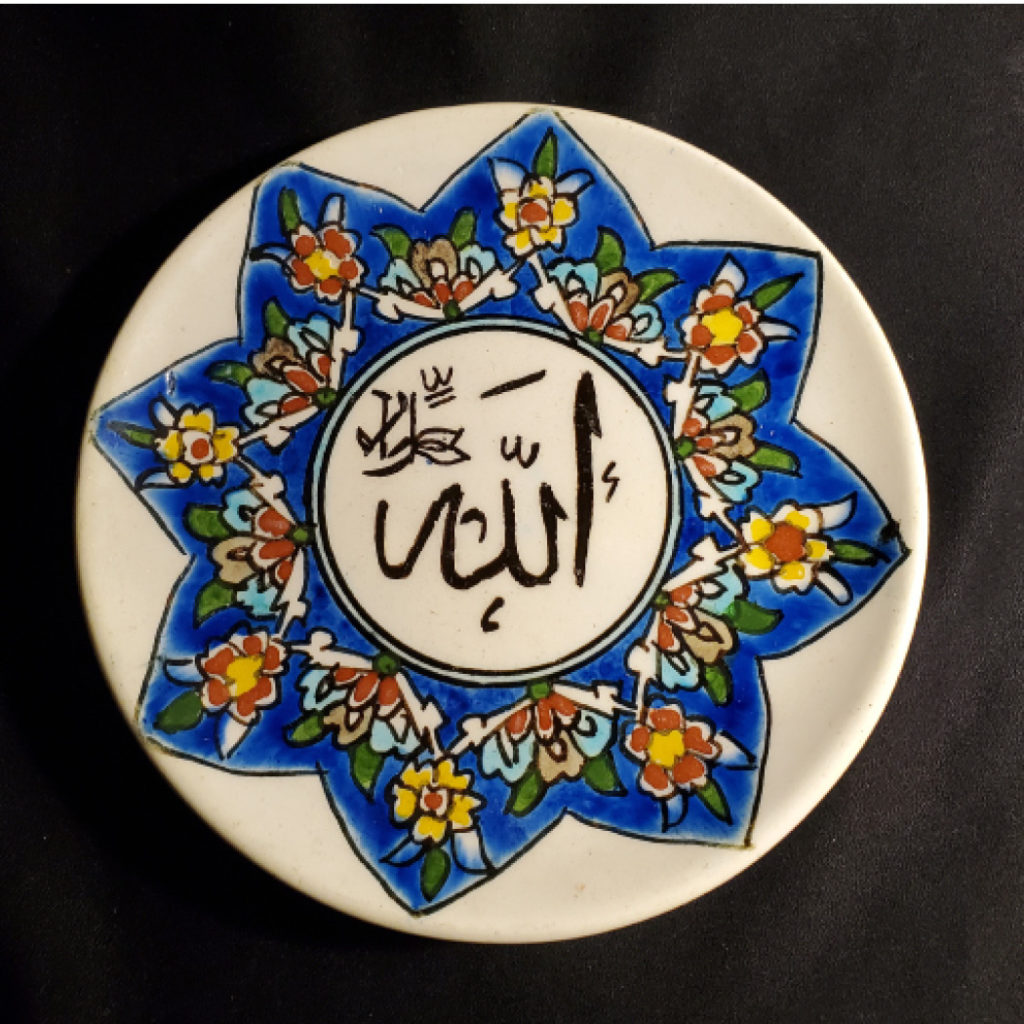 #1441 This decorative plate has an 8-point star with flowers. The star is known as the khatim or khatim-sulayman, meaning "seal of the prophets." It measures 14.75 cm.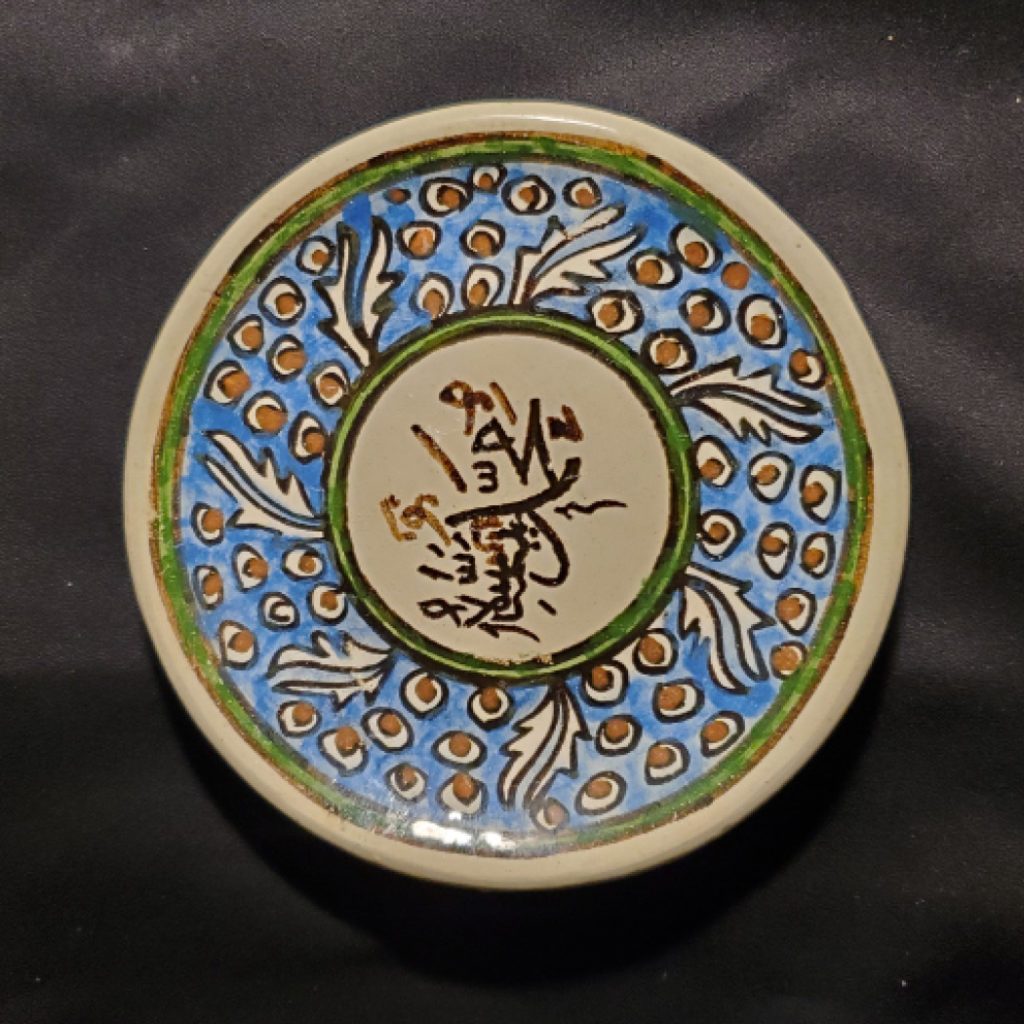 #1440 This vintage Iznik plate from Turkey is decorated with an Islamic prayer. It measures 13 cm across.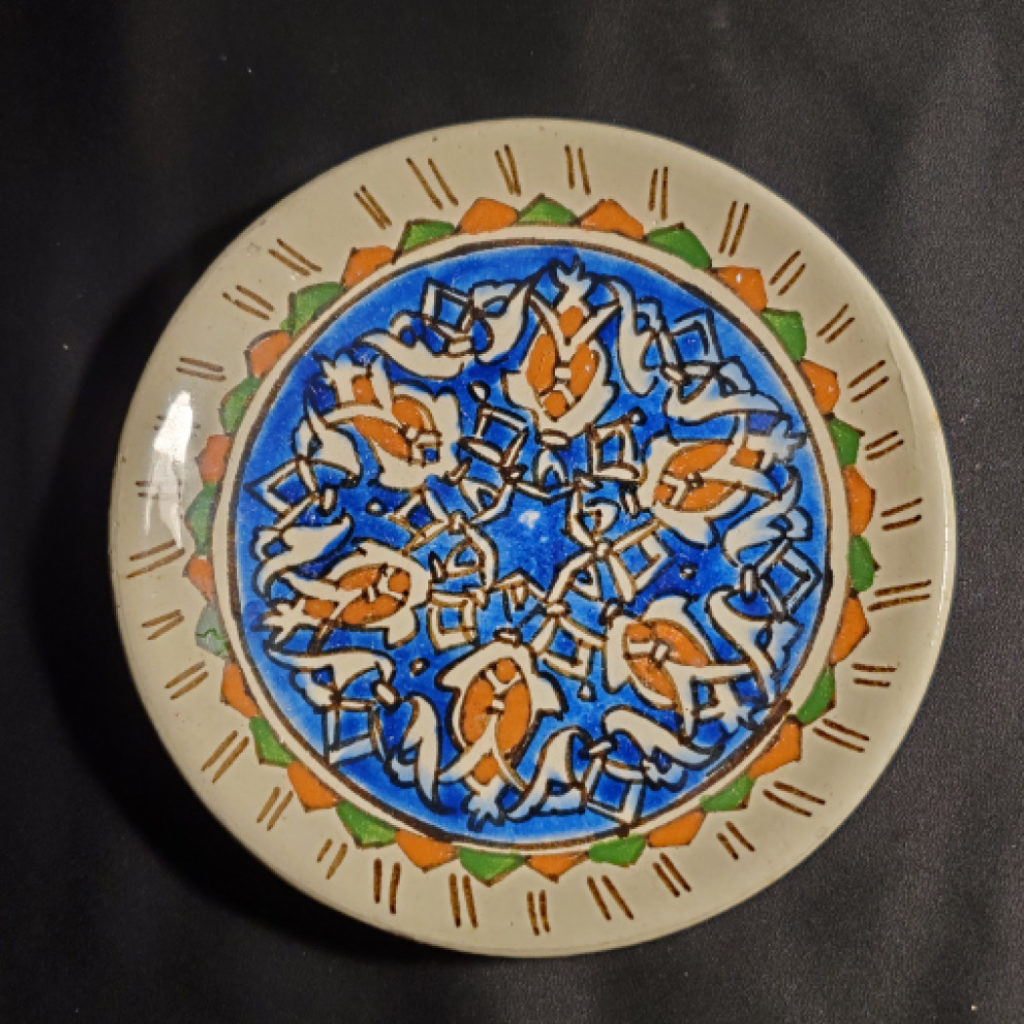 #1442 Turkish Kütahya wall plate by Güven Çini company. The company was founded in 1940 by Kadir Adlım who was following in the footsteps of his father Hacı Halil Adlım who had been making this pottery since 1927. the plate measures 13.75 cm.
Please note: I have struggled with the terms Iznik and Kütahya as many sources tend to use them interchangeably. The Ottoman ceramics came to be known collectively as Iznik, the name is a reference to one region. Kütahya was developed primarily as a folk art and Iznik as Palace art. Following the decline of the Ottoman empire there was a reduction in this art until a revival in the mid century. Both used similar techniques, subjects, colours, styles, characteristics such that it is difficult or even impossible to distinguish between them. This plate is identified by the artist as Kütahya.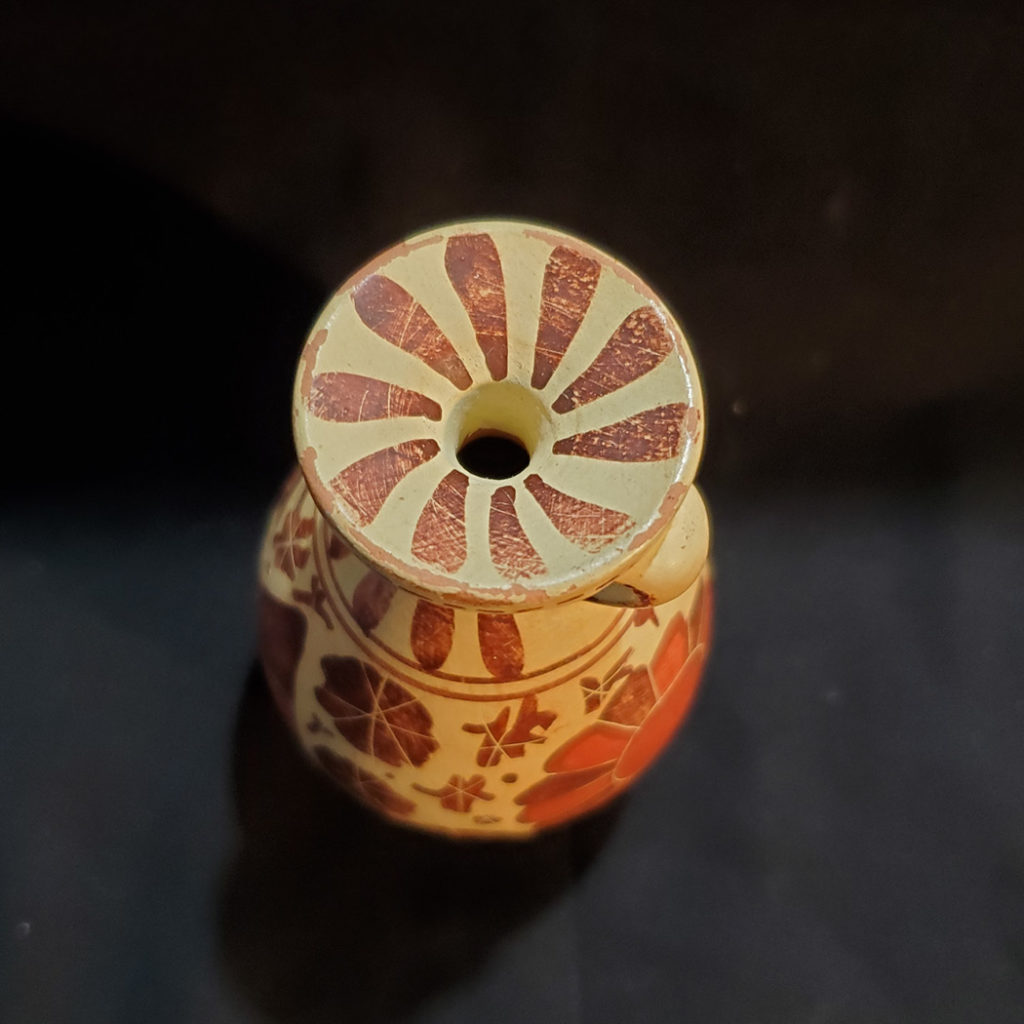 #1217 This exquisite vase has wonderful detail and is an exact copy of a a piece from over 2500 years ago. It measure 6 x 10 cm.
#1218 A remarkable and different bud vase with red clay and shiny spots of blue glaze to create a jewel-like effect. I have not identified the mark as yet. It measures 6 x 10 cm.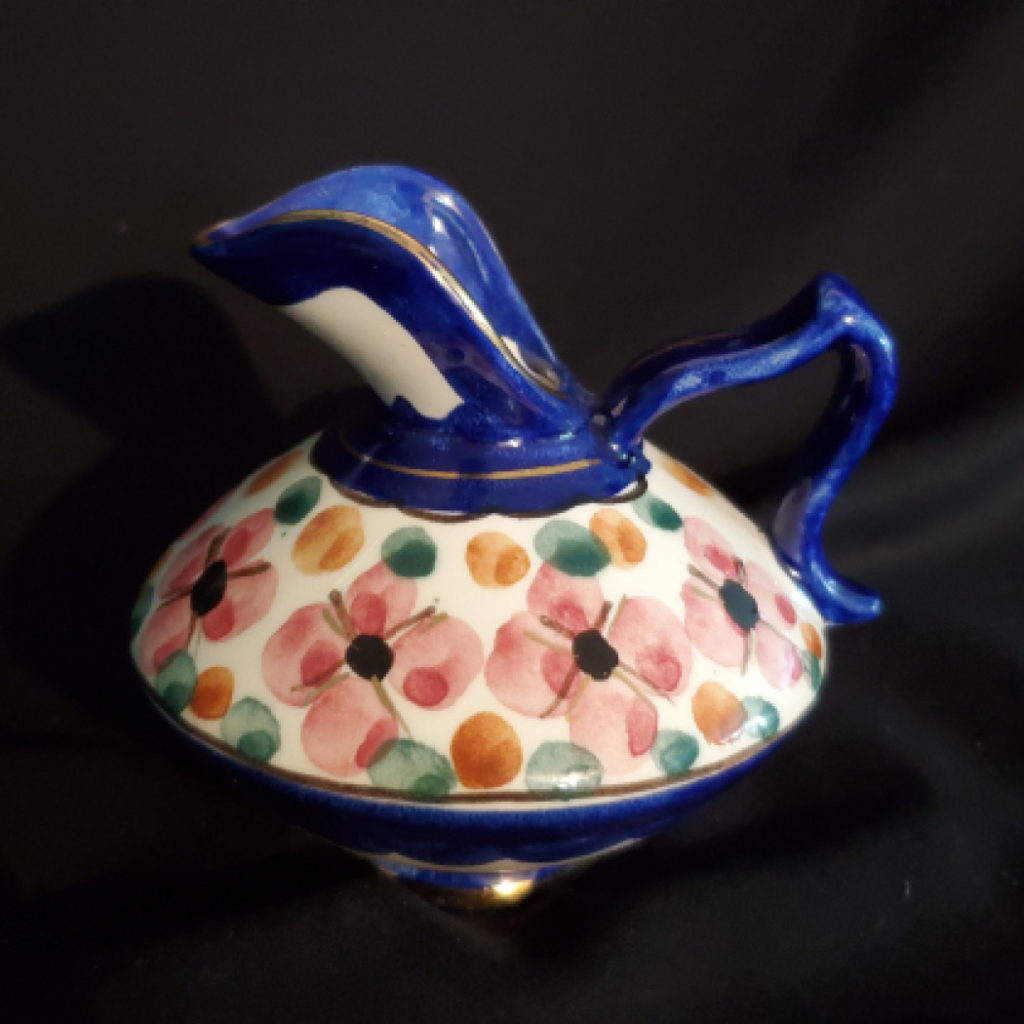 #1482 The small ewer is 13.5 cm x 13.5 cm. Maiolica is low-fire ceramic earthenware covered with an opaque white tin glaze and decorated with colored pigments. Medieval potters discovered that a white tin based glaze was more stable in the firing process than transparent lead glaze and the white surface was ideal for elaborate painted decoration. This type of pottery is also known by the names: majolica, faience, delftware, and tin-glazed pottery. Maiolica pottery was especially popular in Italy during the Renaissance.
Developed in Persia this technique spread across Europe and eventually to Northern Europe. Italian potters set up business in what is now modern Belgium and Holland in the beginning of the 16th century. In Holland, the technique evolved into modern blue and white Delftware. This piece is more like the Italian style and so is labeled by the Dutch as Majolica rather than Delft.
#1101 Moorcroft is a very rare, popular and distinctive English studio that began in 1897. This particular dish is a vintage mid century piece from after the second world war from when Walter Moorcroft was the sole designer. He incorporated strong colours and botanical designs which became the hallmark of the period. Today Her Majesty, Queen Elizabeth II still regularly takes new Moorcroft designs into the Royal Collection to this day – something about which Moorcroft is justifiably proud.
Such is the reputation of Moorcroft, that many other celebrated people have taken Moorcroft into their homes including Leonard A Lauder, President of the Estée Lauder cosmetics empire, and a man who has one of the largest Moorcroft collections in the world: former US Presidents and British Prime Ministers, famous actors and singers. The dish measures 12 cm across.
#1231 This bowl has bold colours reminiscent of Moorcroft. I have not identified it or found anything similar. I cannot tell where it was made although it has characteristics I have seen in both American and Japanese ceramics. It measures 12 x 12. cm. If anyone recognizes it and can identify it for me, I would be grateful.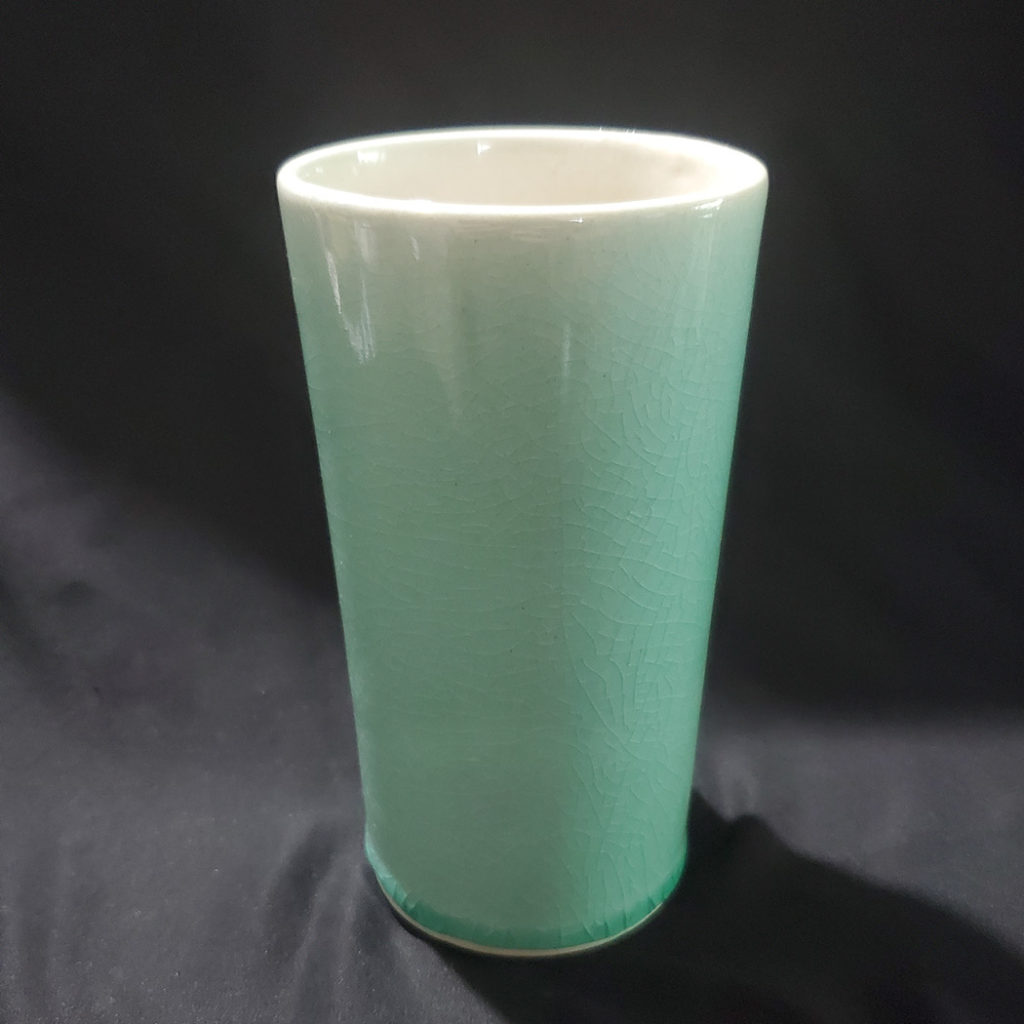 #1240 This vase is unsigned and may have been an experiment. It is a little rough on the bottom withut a signature. It has a wonderful crackle effect and a soft gradiant of celadon green colour. The glaze is also quite thick with some dripping at the bottom. I think the result is wonderful. It may be hard to determine if this was what the artist was going for or a happy accident but it is a beautiful piece. It measure 8.5 x 15.5 cm. As always, please let me know if you have any information about this.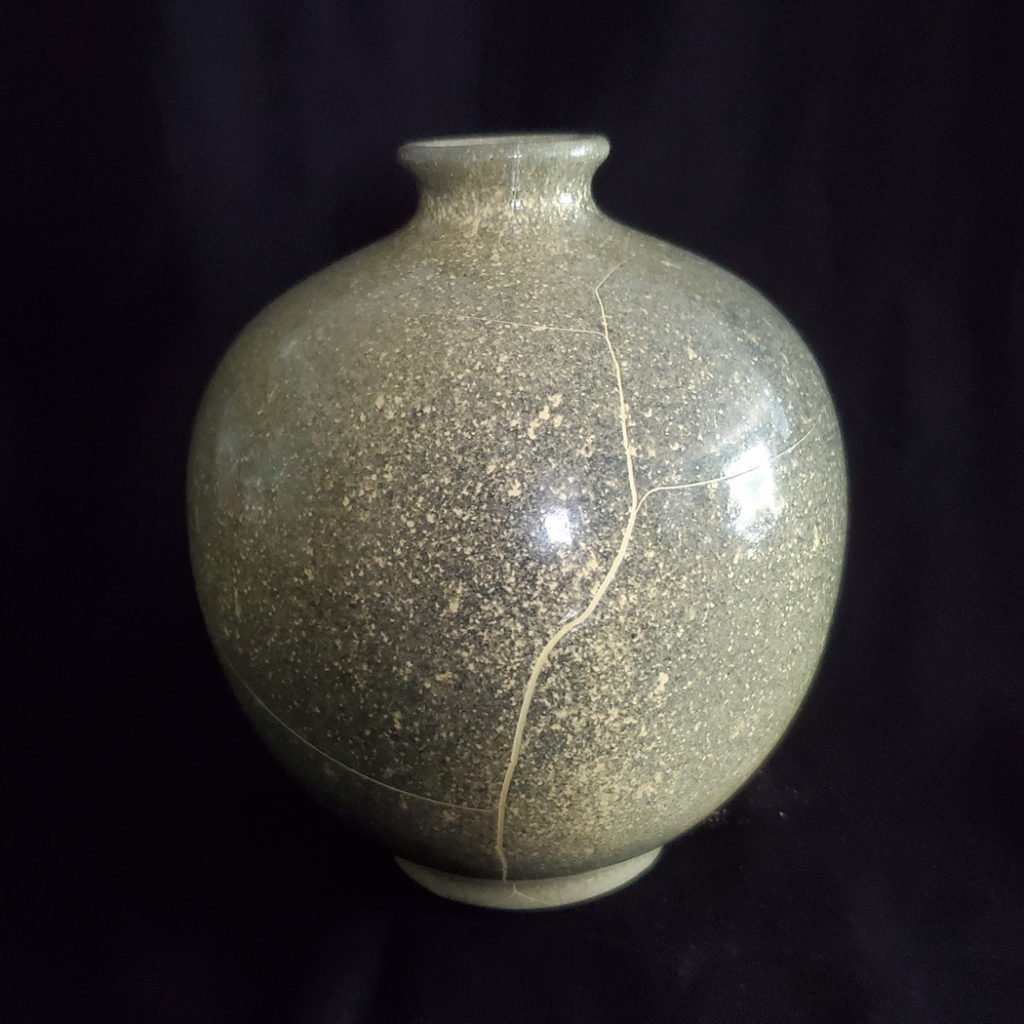 #1039 This vase has wonderful proportions, design and colours. I have not been able to identify the maker definitively but there are some interesting suspects. Appears to be mid century. It is clearly a quality piece. 15 x 13 cm.
#1213 The Shekwan ceramics are commonly known as mudware, mud figures or figurines, mud people, mud men, mudd men, or mudmen. Going back to the Tang dynasty, the Chinese have been producing these figures. They produced what we know as bonsai in a tray with miniature figures. The art was called Pen'Jing. They became an important and popular export with whole villages invovled in the had made creations.
Mudmen were brightly glazed figurines of men, women, wise men and old sages, seated or standing, holding flutes, scrolls, pots, fish and other objects of mystical importance or sometimes fishing. After completion of the rice harvest and the dry season set in, villagers turned to figurine production to stimulate the economy.
Each mudman was hand painted with a low temperature lead glass glaze in yellow, blue or green glaze with the occasional use of white or brown. The face, hands and feet were left unglazed to expose the natural color of the mud. The rocks, shoes or sandals were painted with a dark brown, almost black under-glaze, that was often used to paint hair and facial features as well. Occasionally the rocks were painted a red oxide or yellow ochre. This one measures 5.5 x 13.5 cm.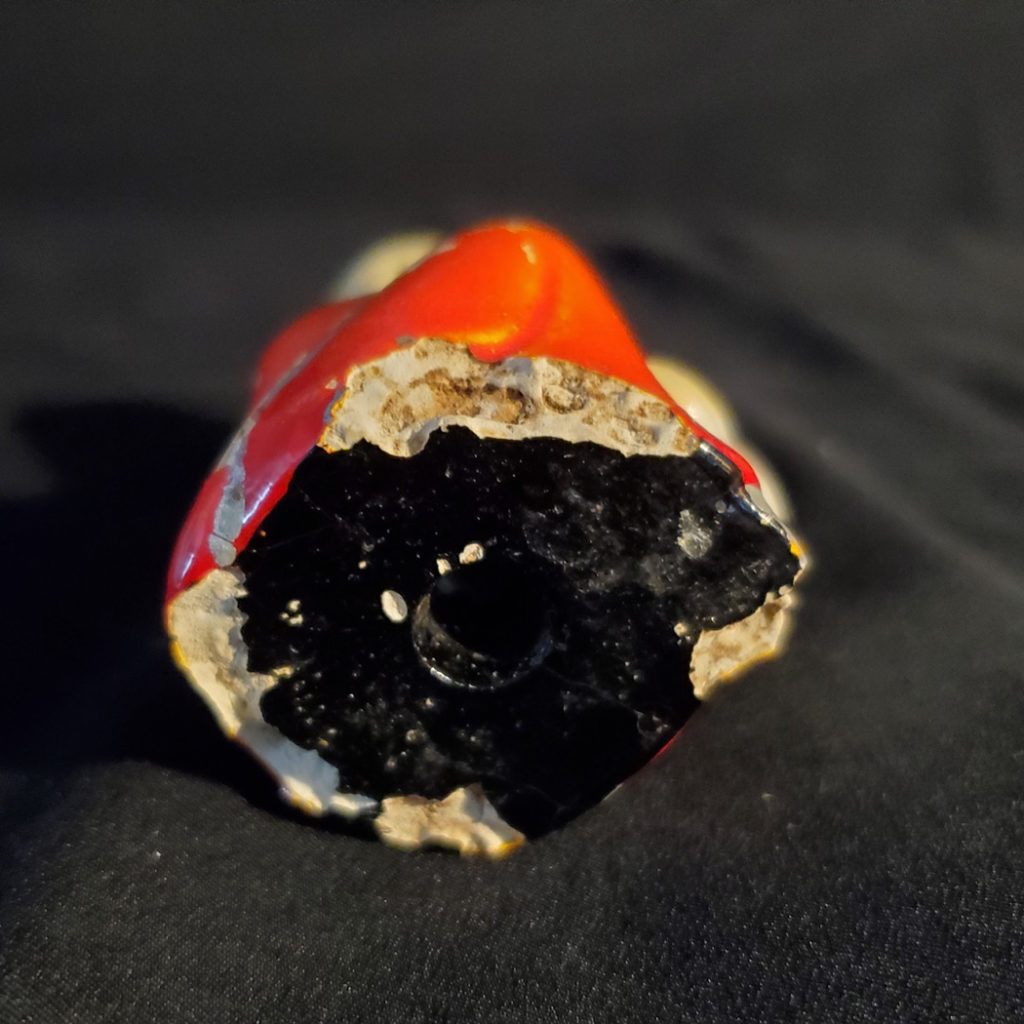 #1229 This is a very unusual Chinese sculpture of a child. It is also painted all over unlike most mud ware. This sculpture is belived to be from the Qing period in the 19th century. The sculpture measures 4.5 x 8 cm.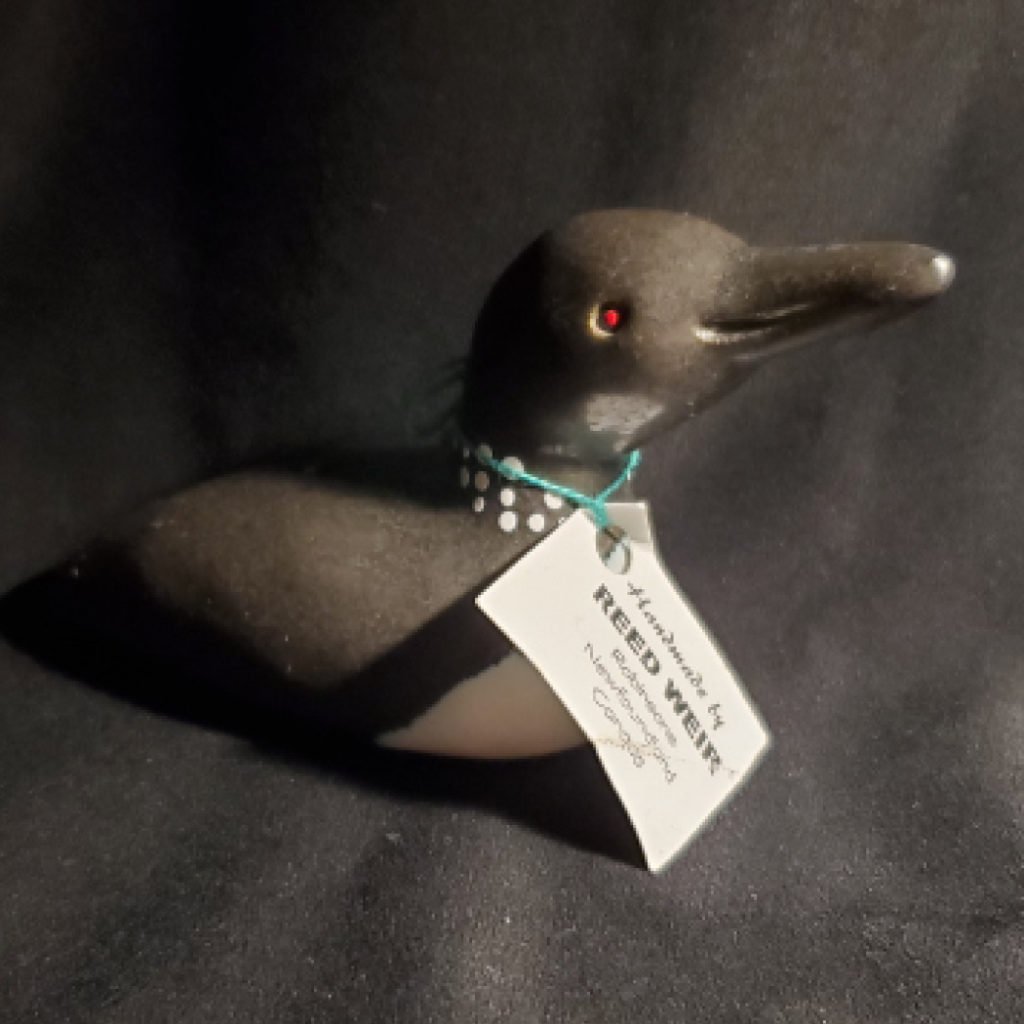 #1430 Whistle imitating the sound of a loon – hand made. From Newfoundland and Labrador. Measures 12 x 5 x 7 cm.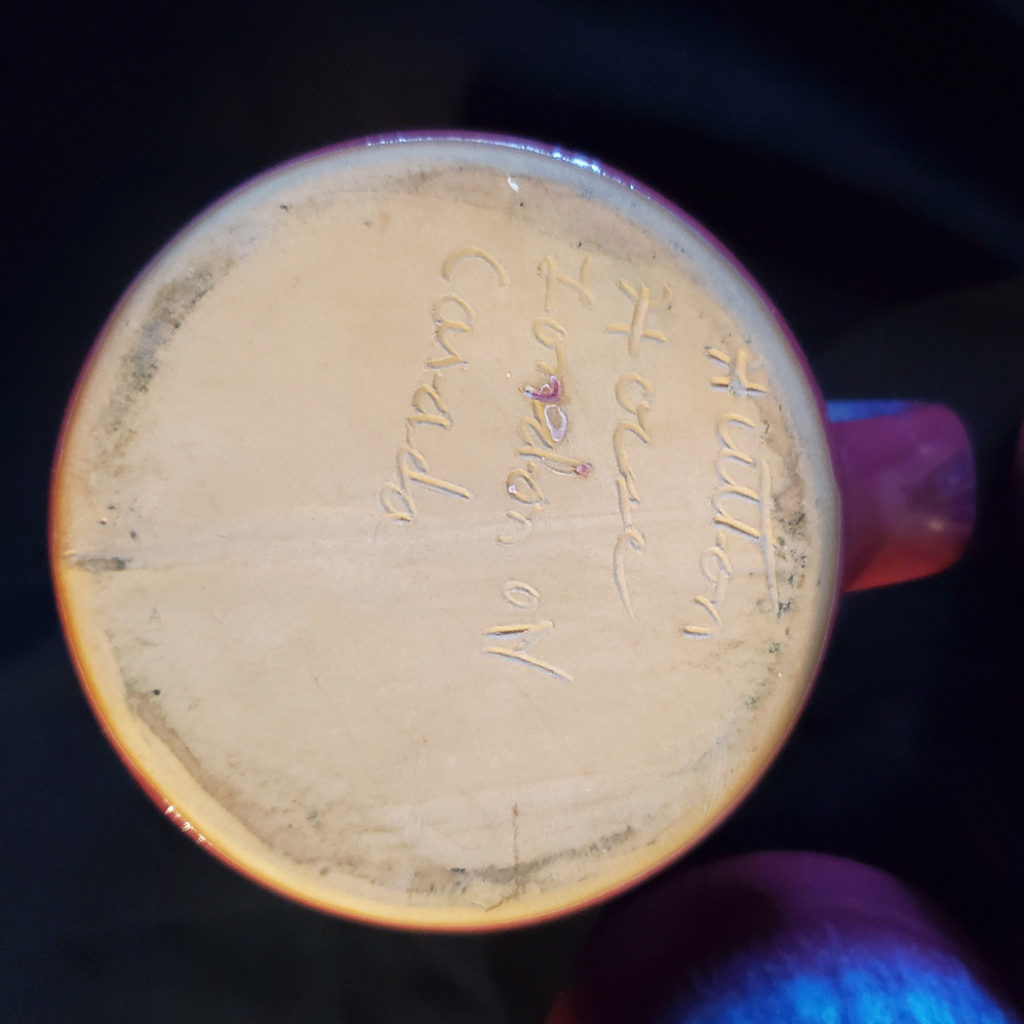 #1525 These are very attractive mugs made in London, Ontario and signed by the potter. This set of 4 is about the price you would pay for one! they are large at 10 x 13 x 10 cm.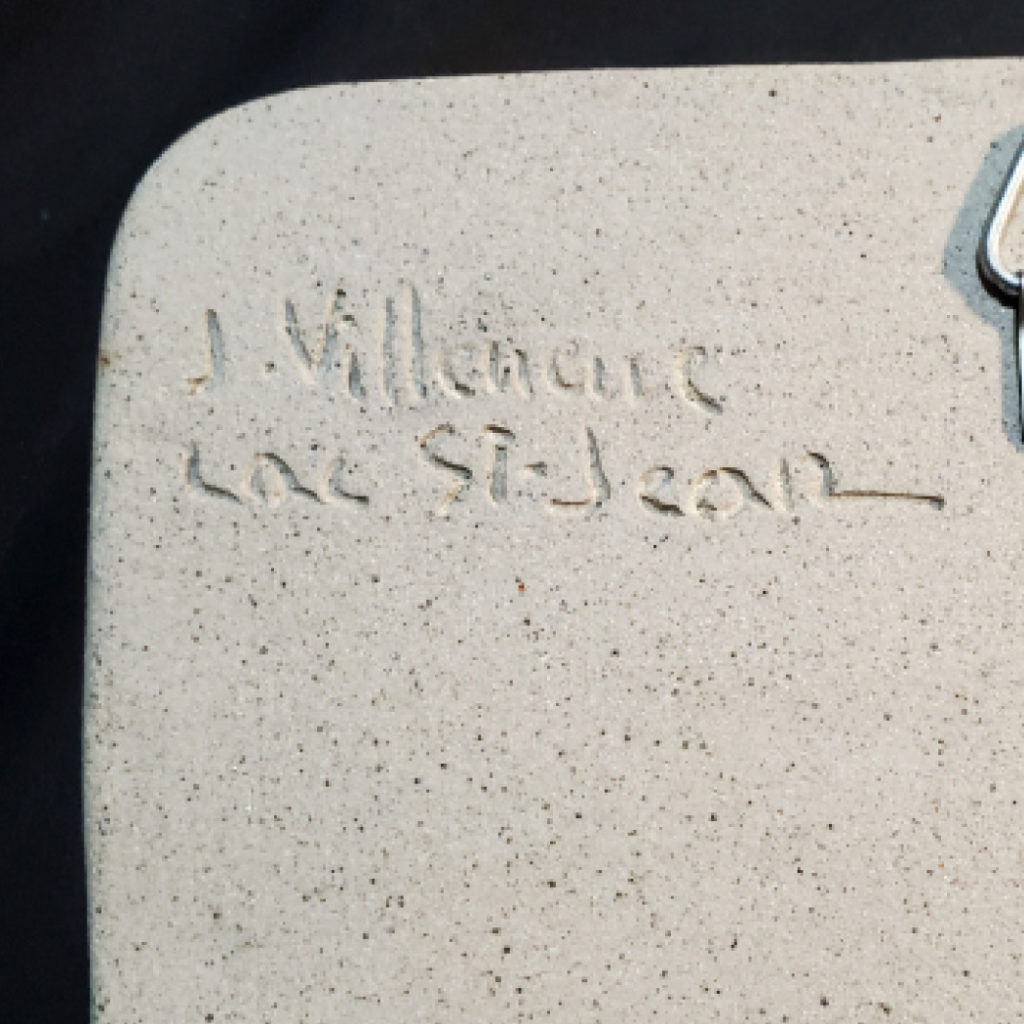 #1431 This attractive hand made letter holder hangs on a wall using the built in hardware. Handmade pottery. It measures 16.5 x 12 cm.
#1432 Attractive wall plate with simple mesmerizing design. It measures 13.5 cm.
#1433 Pottery plate unsigned. Measures 13 cm across.
#1434 Colourful small wall plate with glossy finish, 13 cm across.
#1436 Handmade and hand painted Moroccan Fes ceramic jewelry box. this jewelry box presents a Moroccan know-how unique in the world it is a marriage of ceramic and metal. The metal used is nickel silver, an alloy, of copper, zinc, and silver. This alloy is very flexible and it helps to work and to weld and it never darkens. This little work of art is used as a luxury jewelry box, in the bedroom on the bedside and in the bathroom. It measures 7 x 7 cm.
#1437 Handmade and hand painted Moroccan Fes ceramic jewelry box. this jewelry box presents a Moroccan know-how unique in the world it is a marriage of ceramic and metal. The metal used is nickel silver, an alloy, of copper, zinc, and silver. This alloy is very flexible and it helps to work and to weld and it never darkens. This little work of art is used as a luxury jewelry box, in the bedroom on the bedside and in the bathroom. It measures 8.5 x 7 cm.
#1437 Ceraplat is hand decorated wall ornamental dishes. These are 9.75 cm. A couple places it looks like the black border has been retouched. The picture area is perfect and finely detailed.
#1381 These two plates can be sold separately or together. They are made by the same artist and do look very good together. They measure22 x 2.5 cm.
The word "çini" or "cini" is somewhat synonymous with ceramic in modern Turkish, but it strictly means Iznik pottery in some contexts. However historically there was a difference in usage. While the Turks called the pottery used as household ware as "evani", they named the Turkish tiles as "kaşi". The word "cini" can be translated roughly as "something from/related to China" and has gained its meaning in a relatively late period.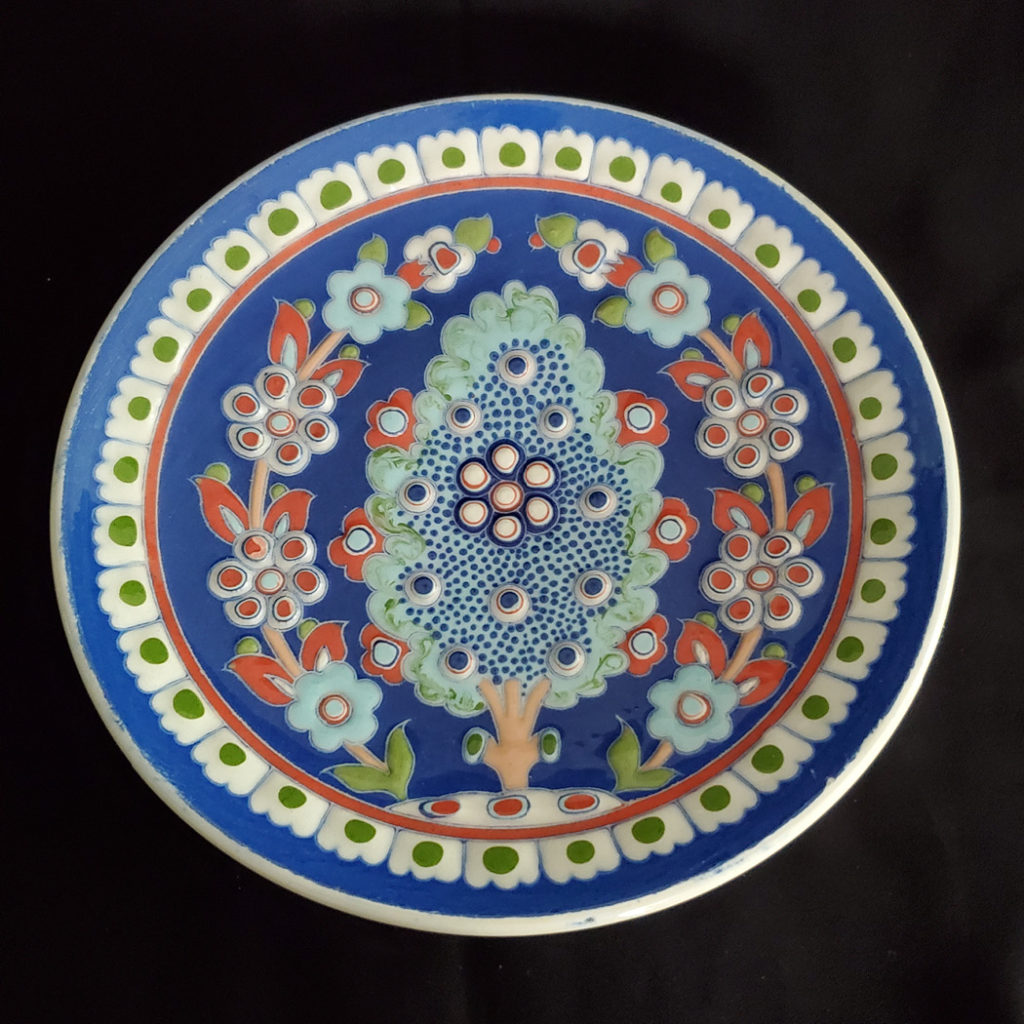 #1040 This plate, signed by Altin Cini is an example of Iznik pottery designs from Kütahya. It measures 19 cm.
#1307 This bowl has the compass directions to European locations important to the Masons, It has 21 EPS in the centre. The bowl measures 20 x 5 cm.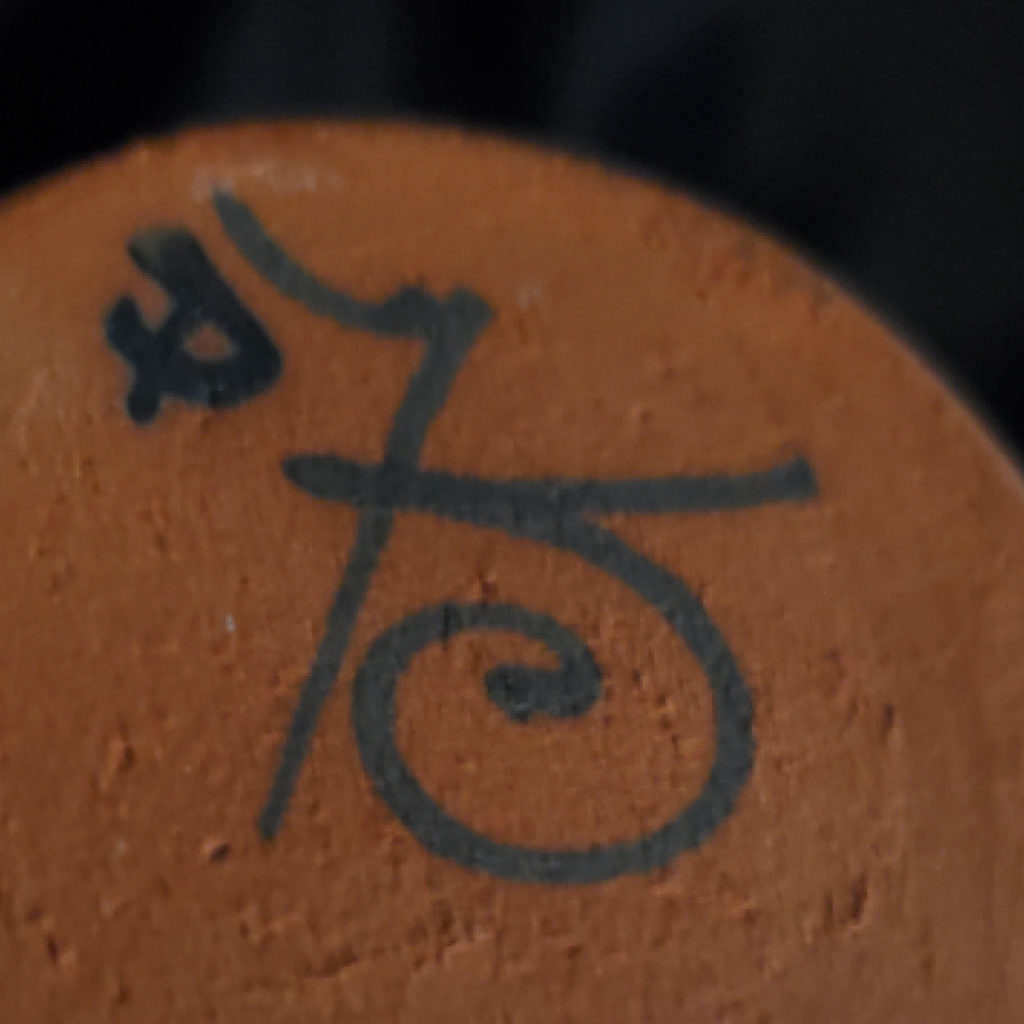 #1447 The pitcher is signed twice, once on the bottom and in the image. I cannot make out the letters. I suspect it is a "FJ." It measures 10 x 15 cm. It is from Italy or Portugal.
#1315 It is hard to be sure of the name. It has wonderfully fluid colours. The vase measures 7 x 8.
#1328 Unknown midcentury pottery tumblers. 9.5 x 7.5 cm.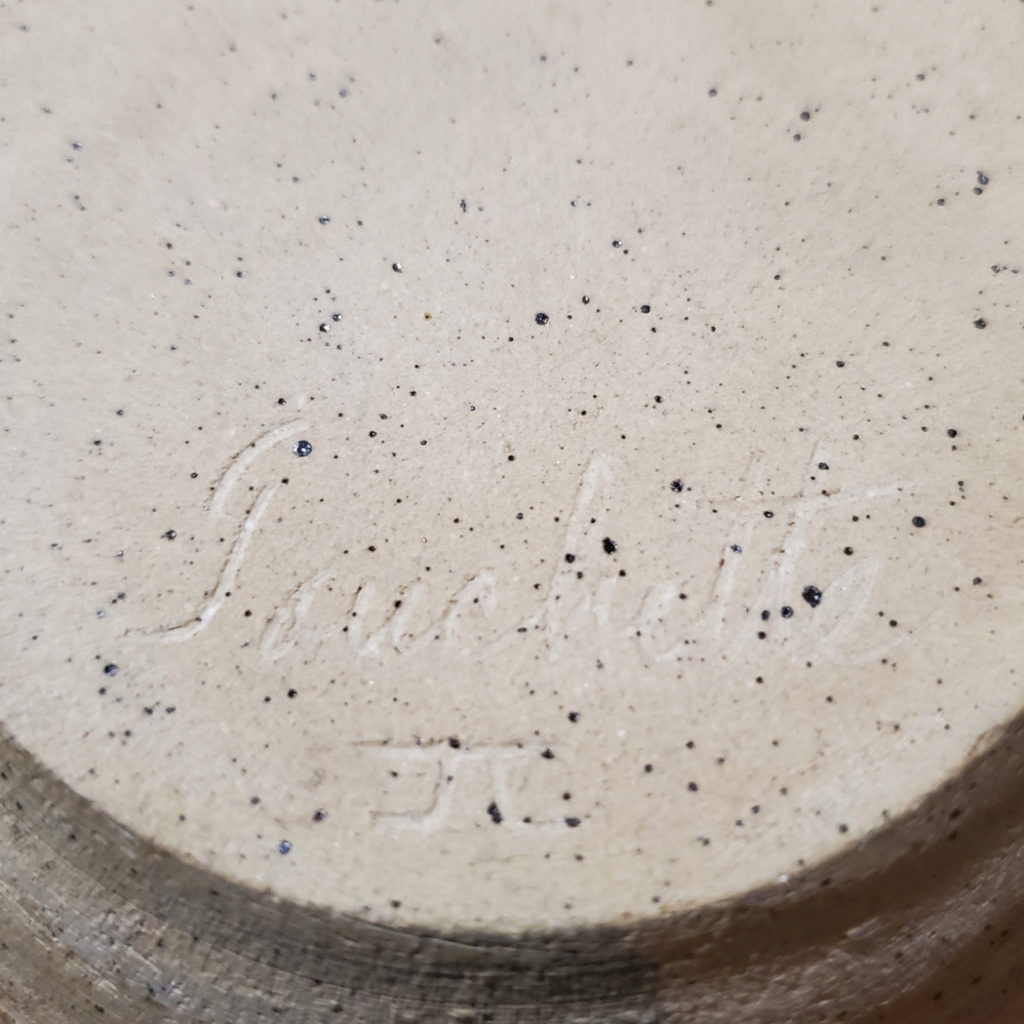 #1382 I have had this bowl since the 1980s. Unfortunately I do not remember anything more about where it comes from or who made it or even how old it was when I got it. I find it interesting as it has a signature that I find difficult to read and what looks to me like a Chinese character. The signature may be Touchette? The bowl measures 6 x 12 cm.
#1383 This vase measures 7 x 13 cm. It is unsigned. I think it may have been an experiment in Raku or a student.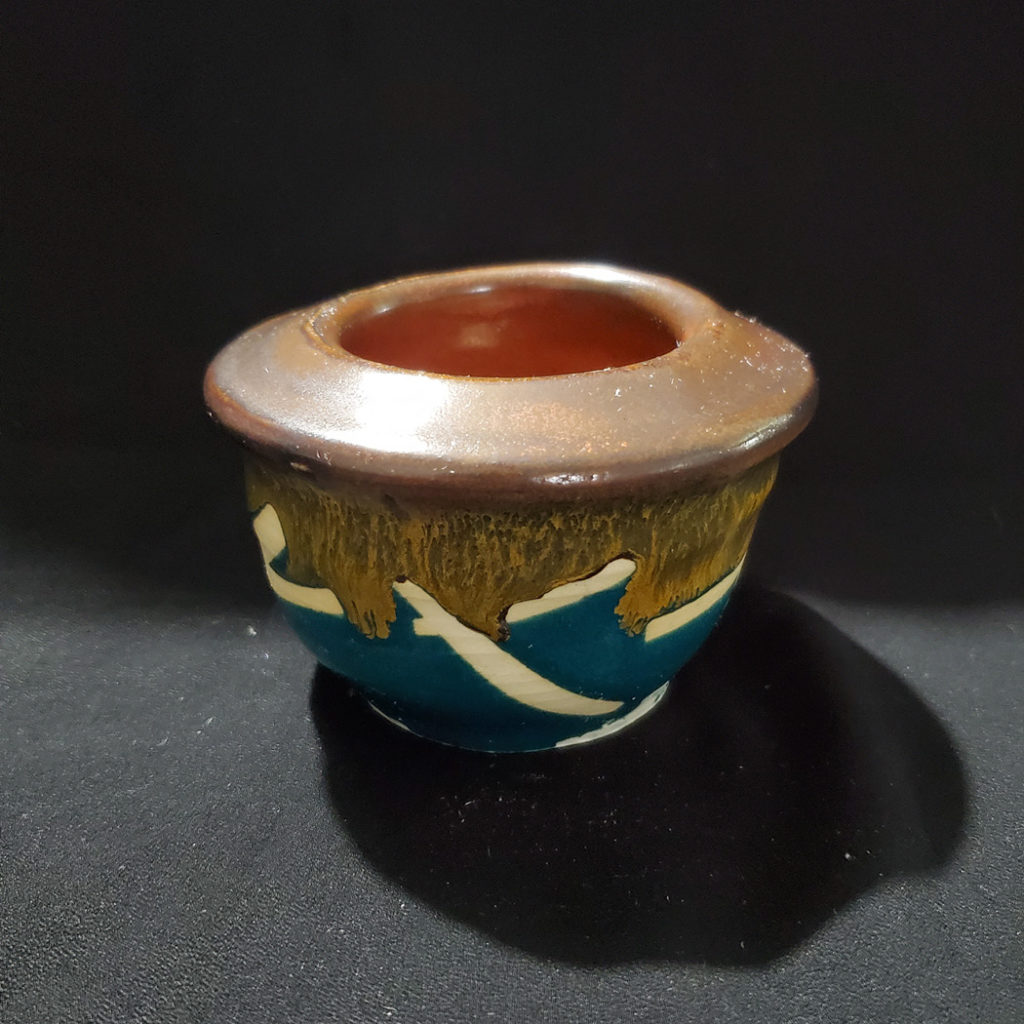 #1384 This interesting looking vase is 10 x 6.5 cm. The glaze combinations are quite different and so is the shape with the lip. I think it may be a candle holder.
#1385 These wine goblets from Craighurst, Ontario. Hartley Woodside had a long time gallery there. these are quite representative of his work. They measure 10 x 10 cm.
#1386 The vase measures 22 x 9 cm. Terrie MacDonald has a pottery shop called Terra Dolus Pottery in Cambellford, Ontario. The motifs in this vase are also very representative of her work.
#1305 This piece measures 2 x 9.5 cm.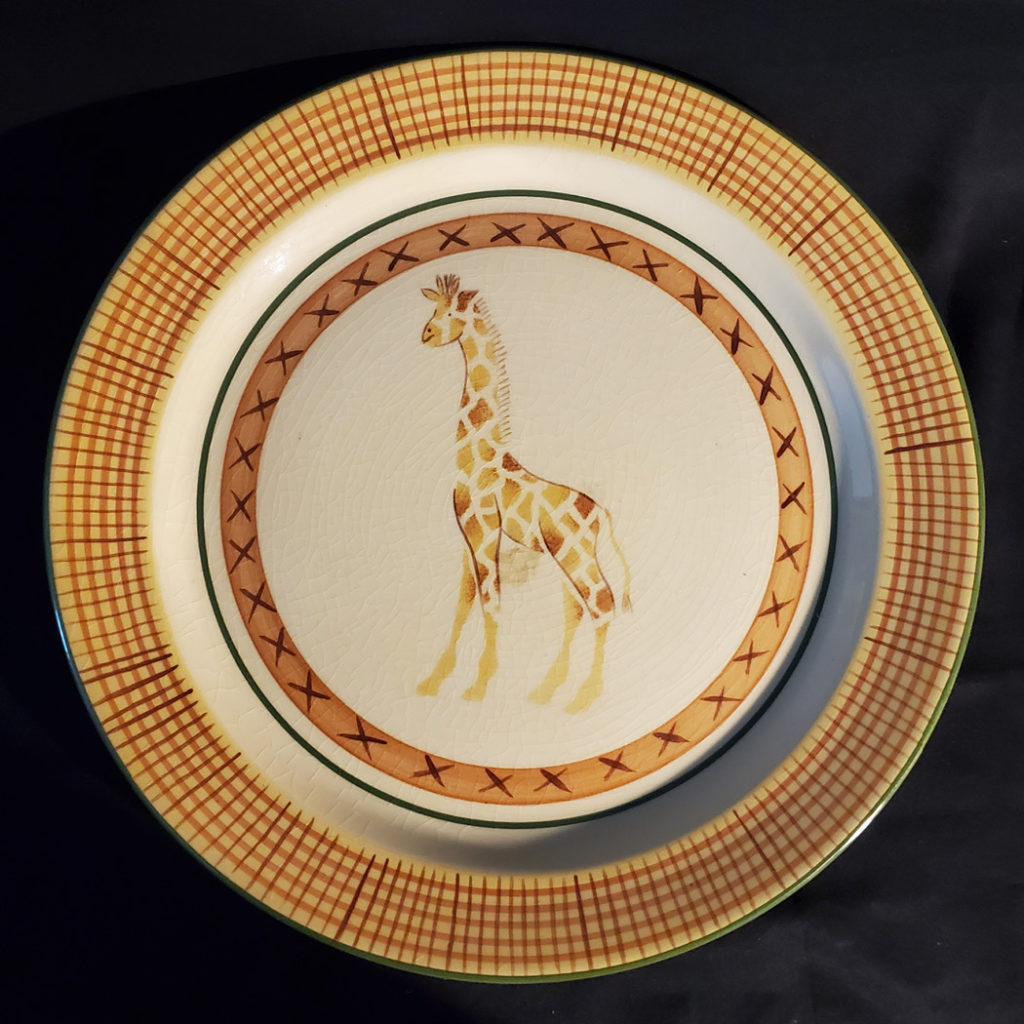 #1228 This is a large and heavy hand painted plate. It measures 29.5 cm across.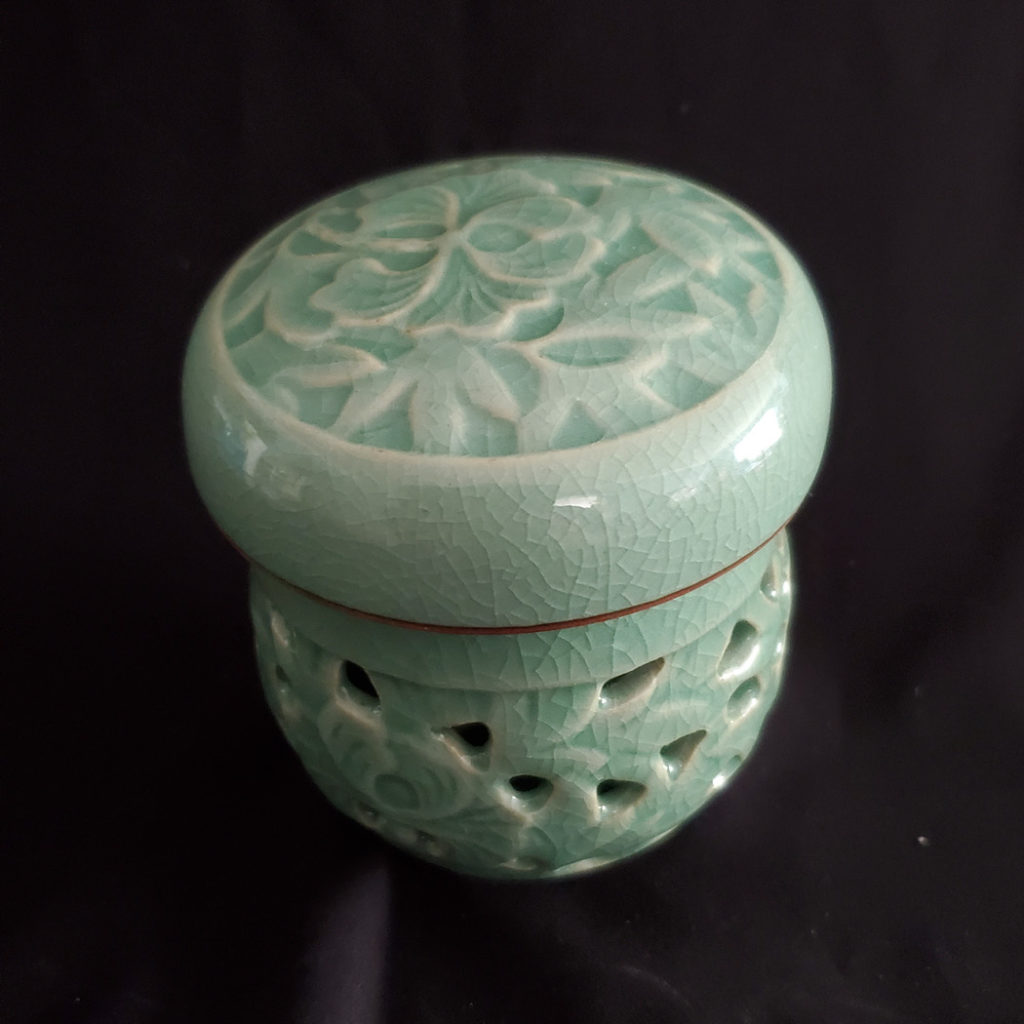 #1041 This celadon teacup made in Korea is signed. It has a double wall which manages the heat so you don't burn your hands. Beautiful traditional celadon design.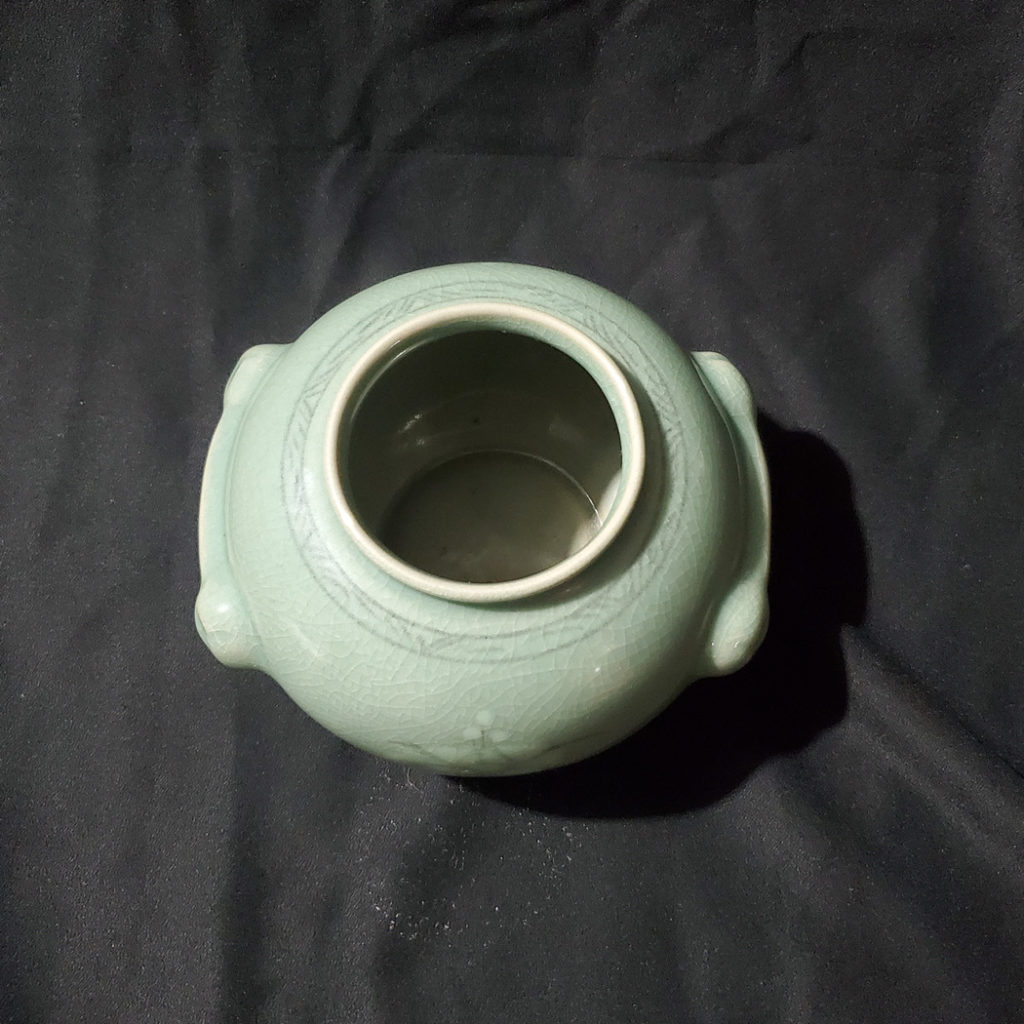 #1380 Korean Celadon, hand painted, unusual shape. Measures 12.5 x 12 x 8 cm.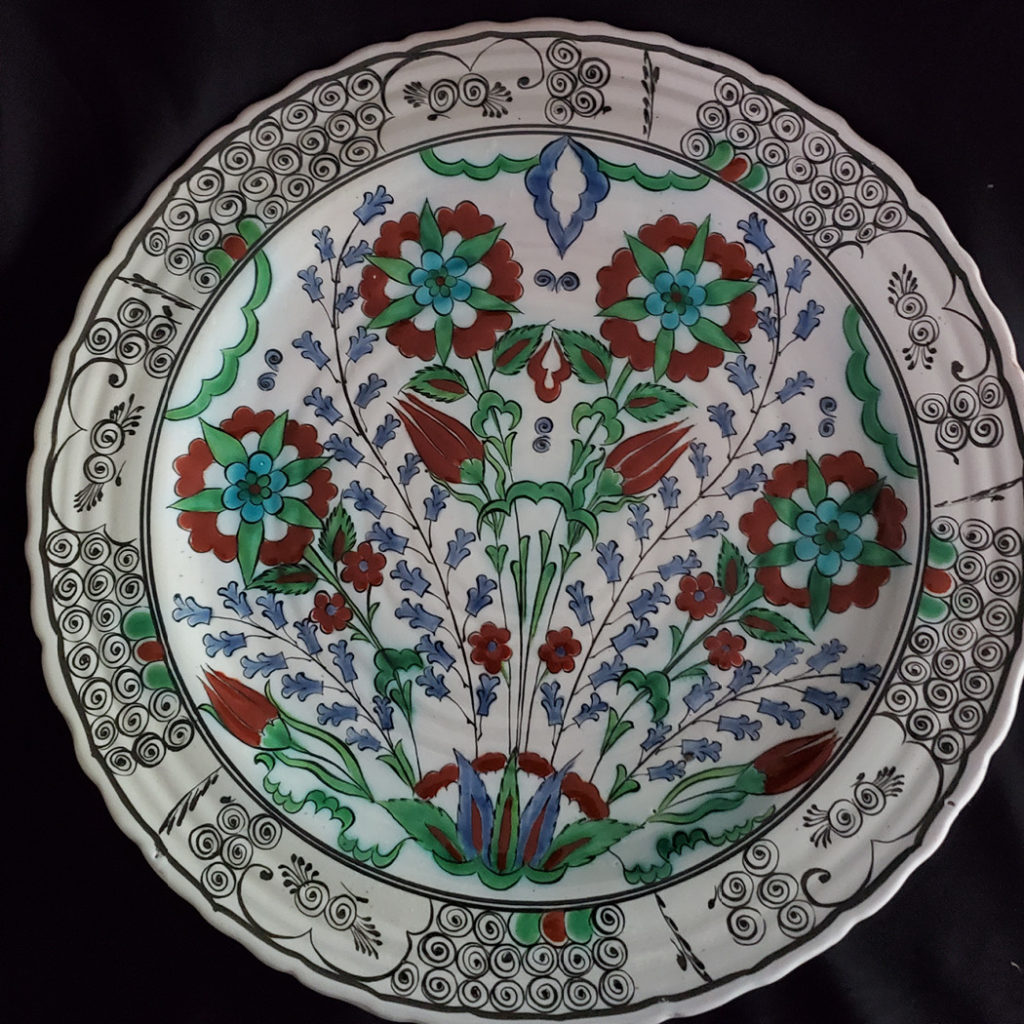 #1042 From 1928 to 1988 Icaros was the place to get this wonderful style of pottery that remains very much in demand. Read about it here. As you will see Rhodes pottery is similar to Iznik pottery and was called Lindian Iznik. This one is very large – much larger than many that can be found today. The price I have is very low for this given the size and rarity. 34 x 4.5 cm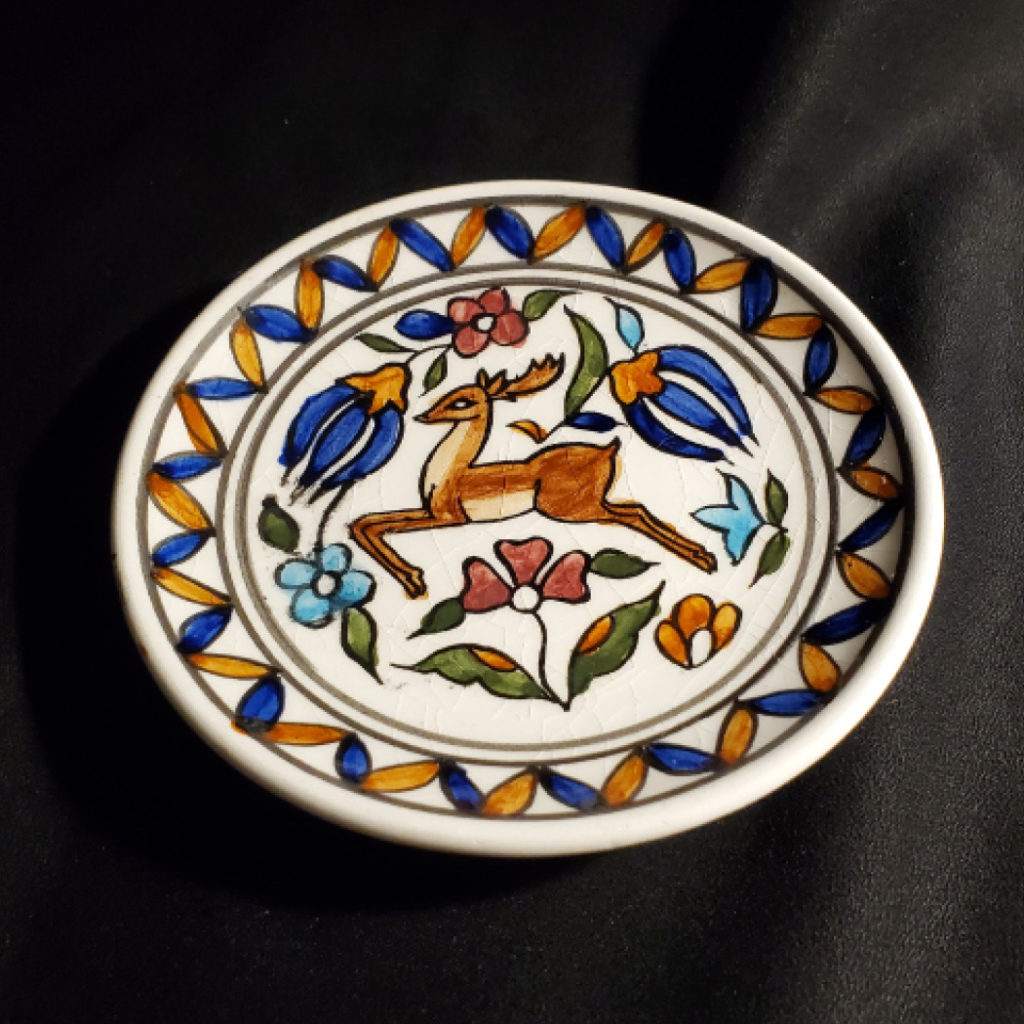 #1438 Vintage Greek Rhodes Lindos, signed Tringatzis. Hand-made and painted deer floral plate. It is 11.5 cm across.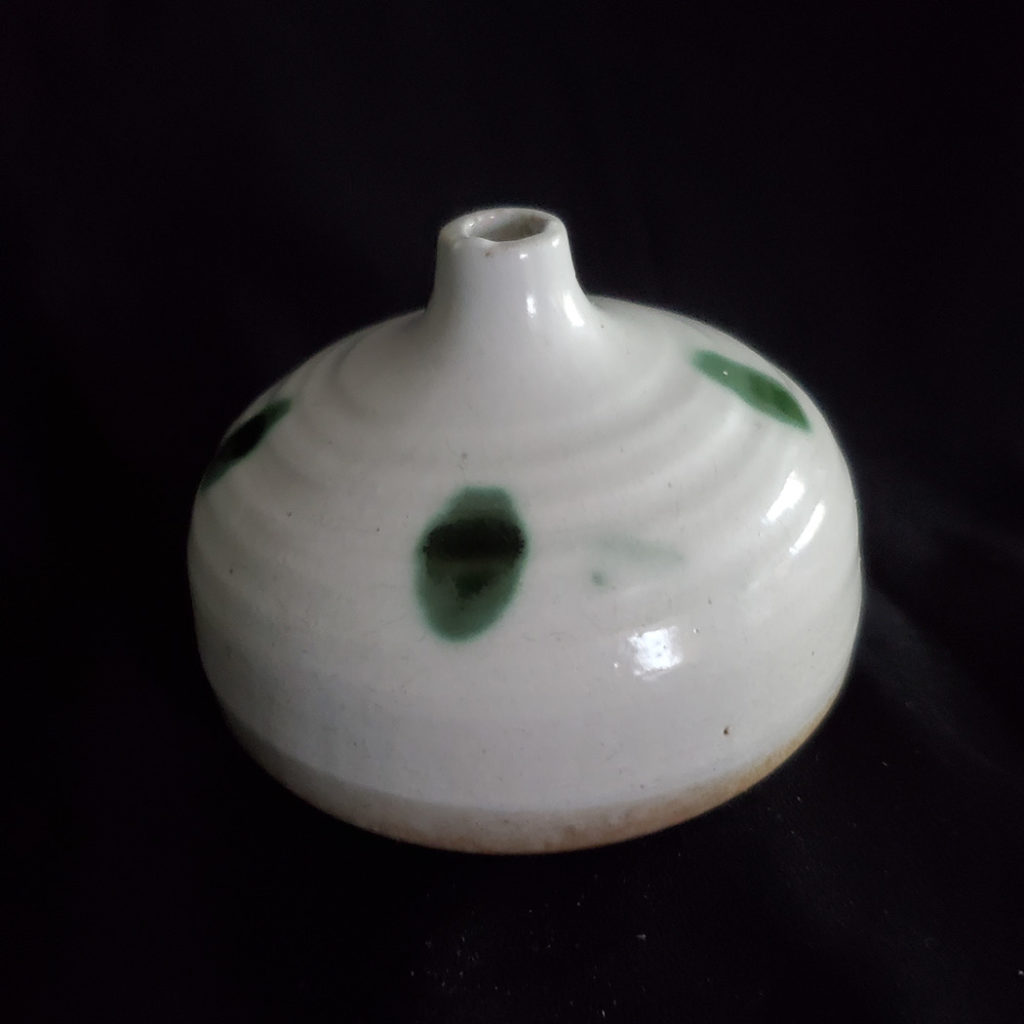 #1043 This small Japanese bud vase was imported by Amrams Toronto probably in the 1970s. 7.5 x 9 cm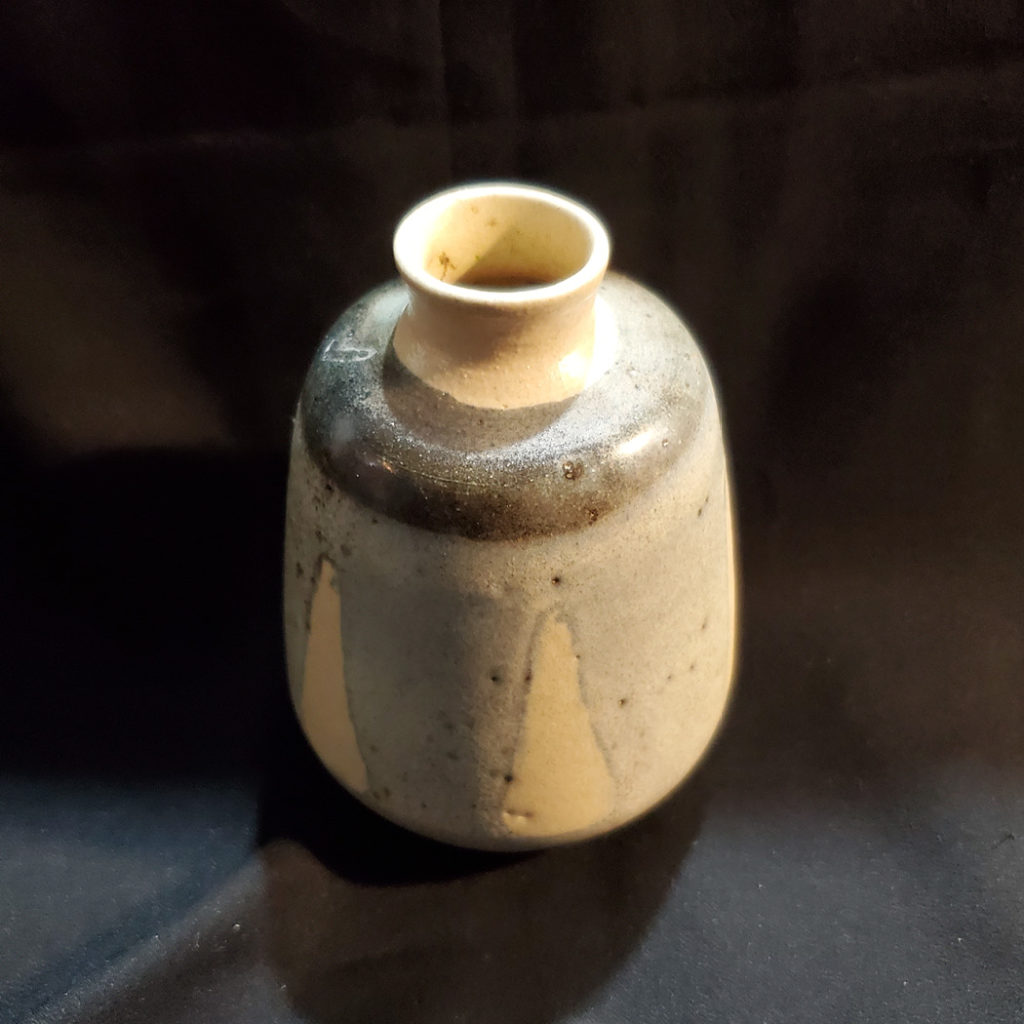 #1103 This pottery bud vase represents all the aesthetics of mid century pottery. I have not identified the signature but it could be identified, I think. It is 8 x 10 cm.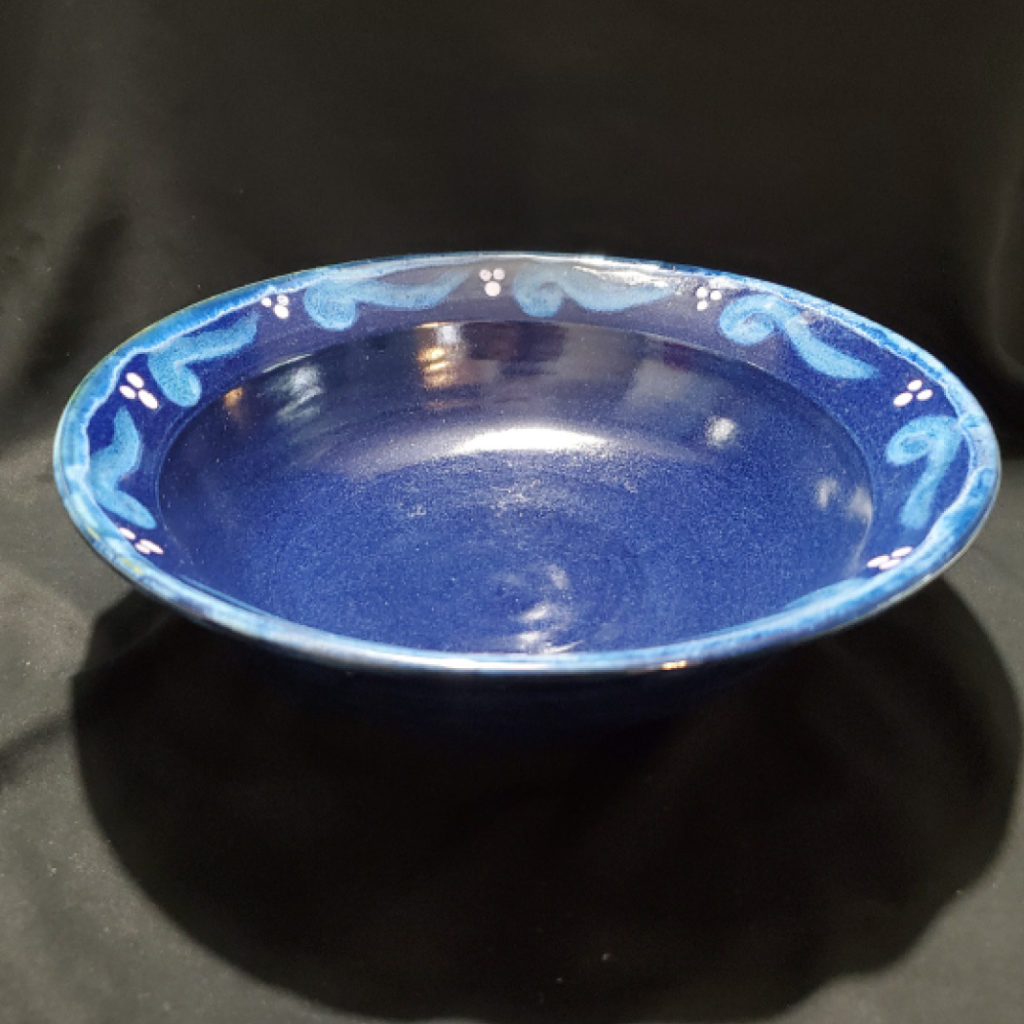 #1427 Hand made and signed pottery bowl. I believe this is from Gilmer in South Mountain near Ottawa. It measures 29.5 x 9 cm – a large bowl!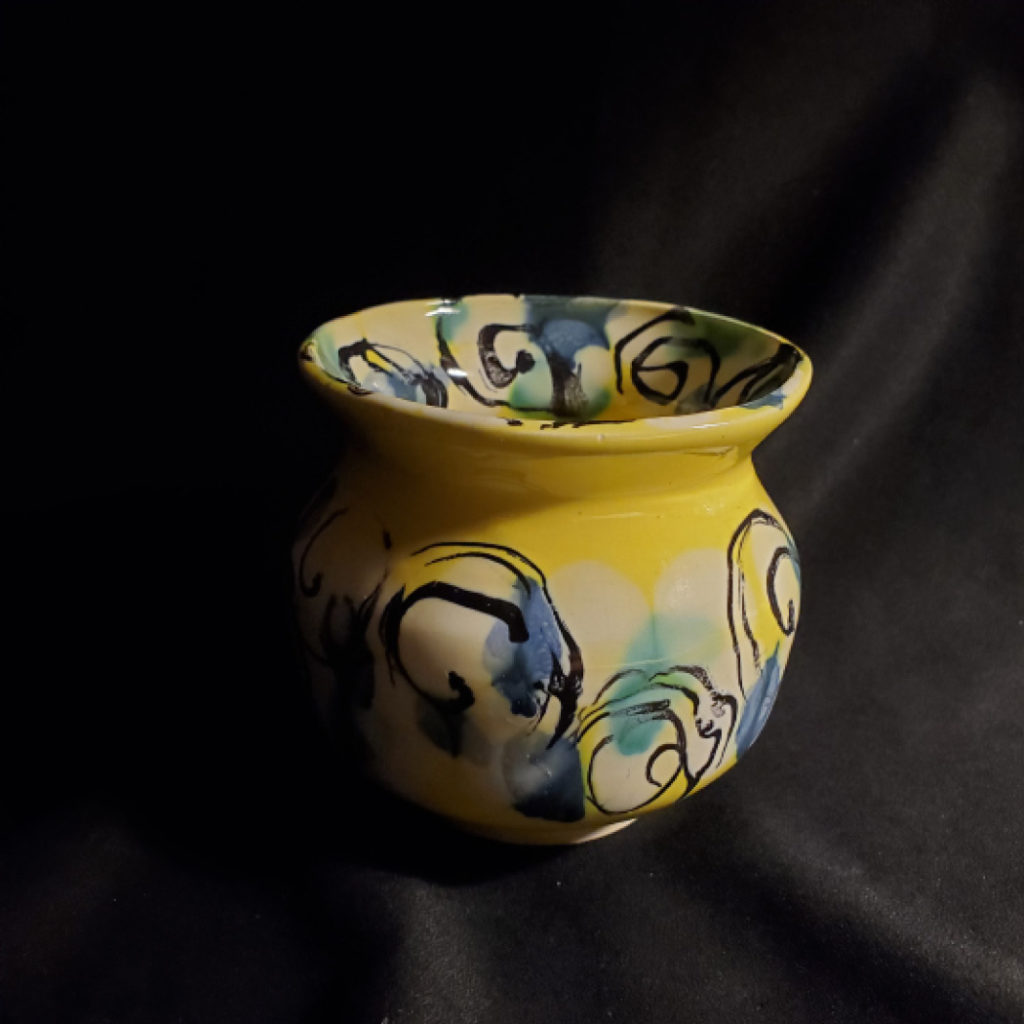 #1428 David Sharp was born in 1932 in Hackney, East London. During a summer holiday he visited the charming little town of Rye, just over the Kent border in Sussex. He saw the Rye Pottery and his interest in ceramics was born.
In 1947 he became Rye Pottery's first apprentice. He worked for them for six years, learning the necessary skills for a potter, before being called up to serve his country in the army. He left to form Rye Art Pottery in 1956. He began David Sharp Pottery in 1964. He died in 1993.
This vase is likely from the mid 1960s. It measures 8.5 x 8.5 cm and is a good example of the art pottery he is known for.
#1429 This is a very attractive hand painted pottery bowl. I could not find a signature so, sadly, it remains unidentified. It measures 13 x 4.75 cm.
#1044 Palmers of Montreal, Paris and New York had these jars made to sell perfume in the 1960s. They are replicas of larger jugs. 10 x 6 cm.
#1045 This is a studio pottery jar with pink beige and blue designs. 9.5 x13 cm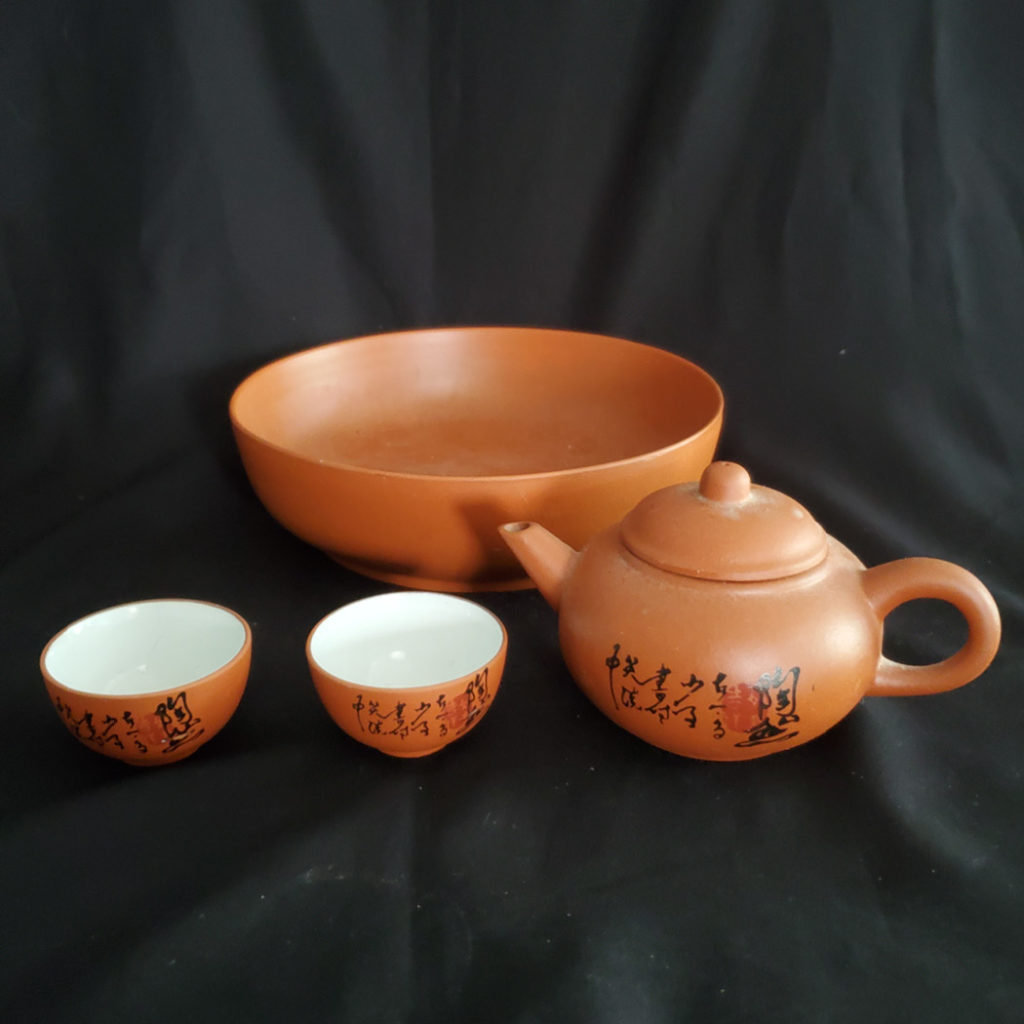 #1046 Chinese tea set for two in red clay. tray 16.5 x 5 cm pot 12 x 7 cm and cups 5 x 3 cm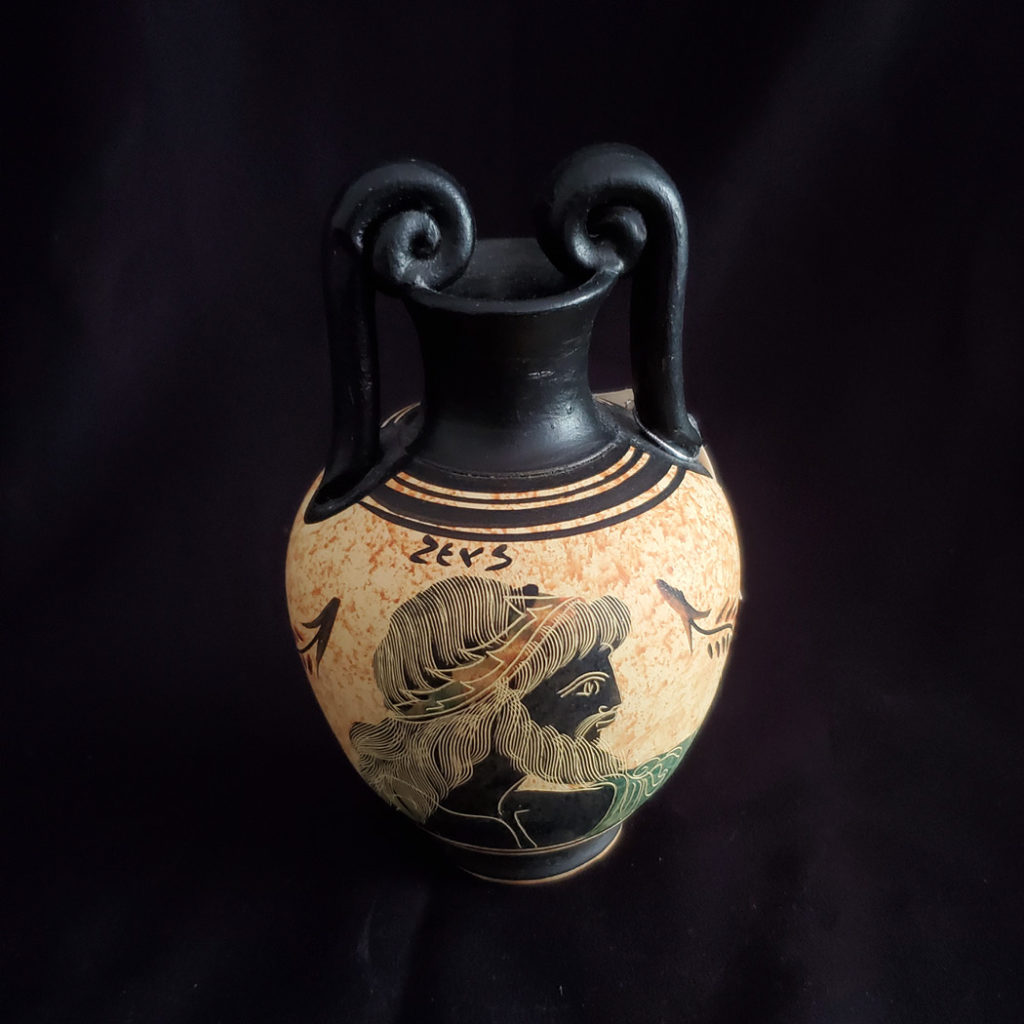 #1047 Dim Ceramics produces exquisite museum replicas of ancient Greek pottery. These sell well over $100 each. 13 x 8 cm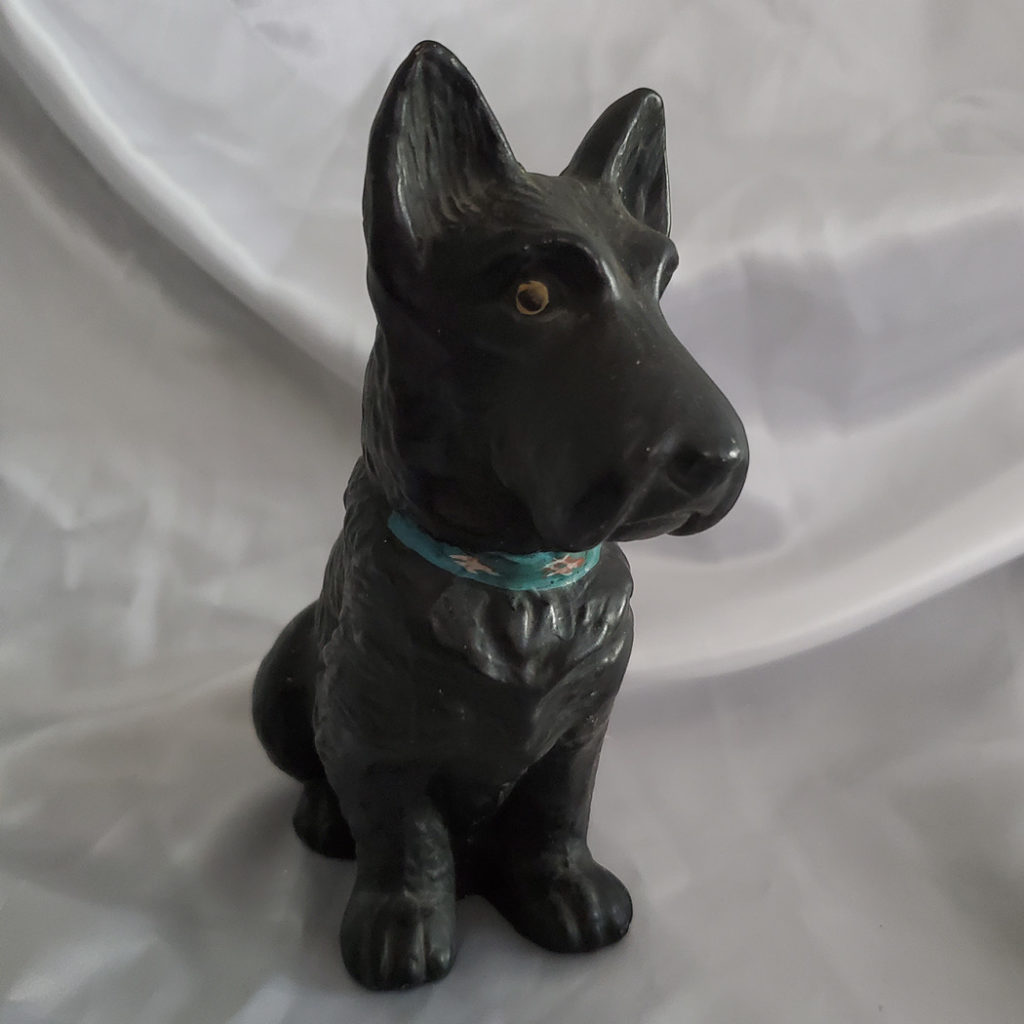 #1048 The Sylvac factory was founded in 1894 by William Shaw and William Copestake ad operated until 1982. This dog number 1206 was produced in 1932. There is no signs of damage except small wear to the paint in a coupe places on the bottom. 17 x 19 x 8 cm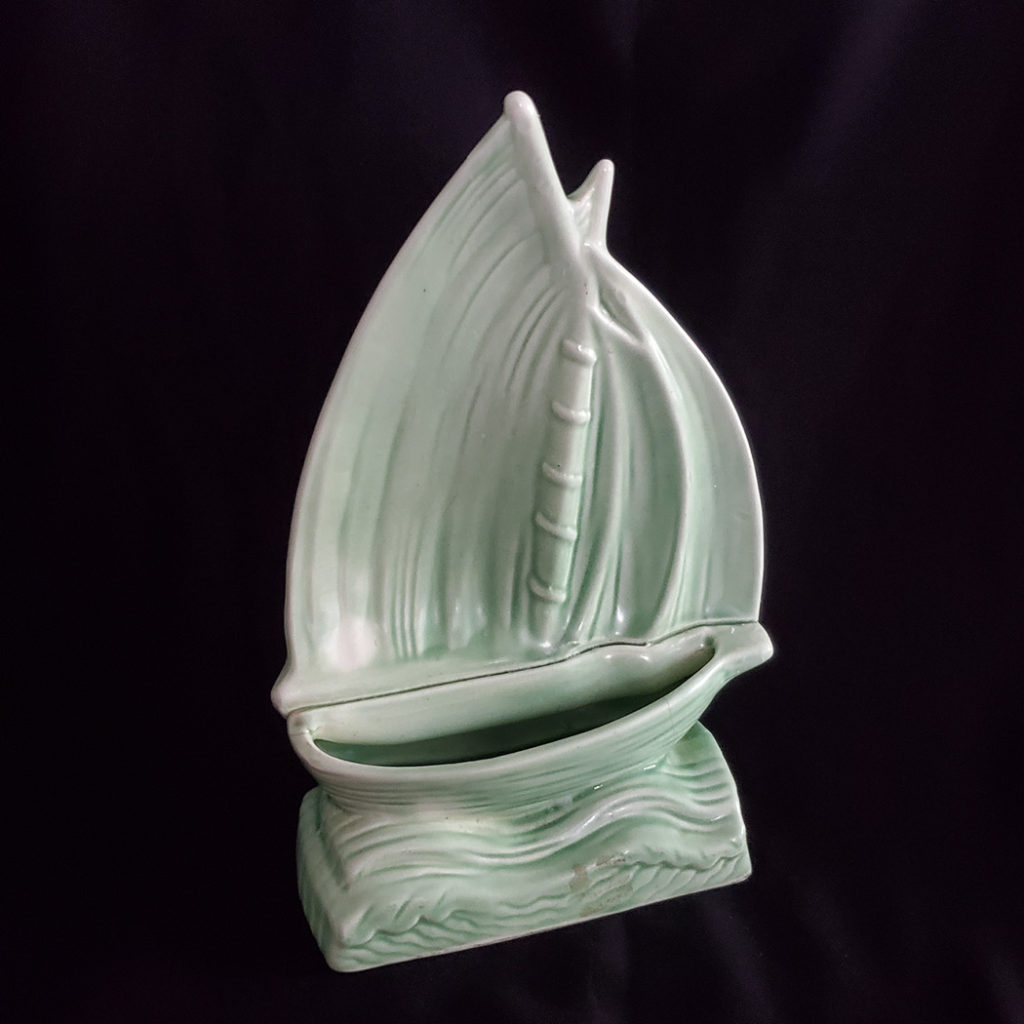 #1048 Sylvac Art Deco boat number 1394 dates it to the1930s. I have priced this low as there is a hairline crack in theback close to the water line.
#1251 These bowls marked Stuart 1995 are made in Canada . The colours are bright and the bowls are beautiful. 16.5 x 5 cm each.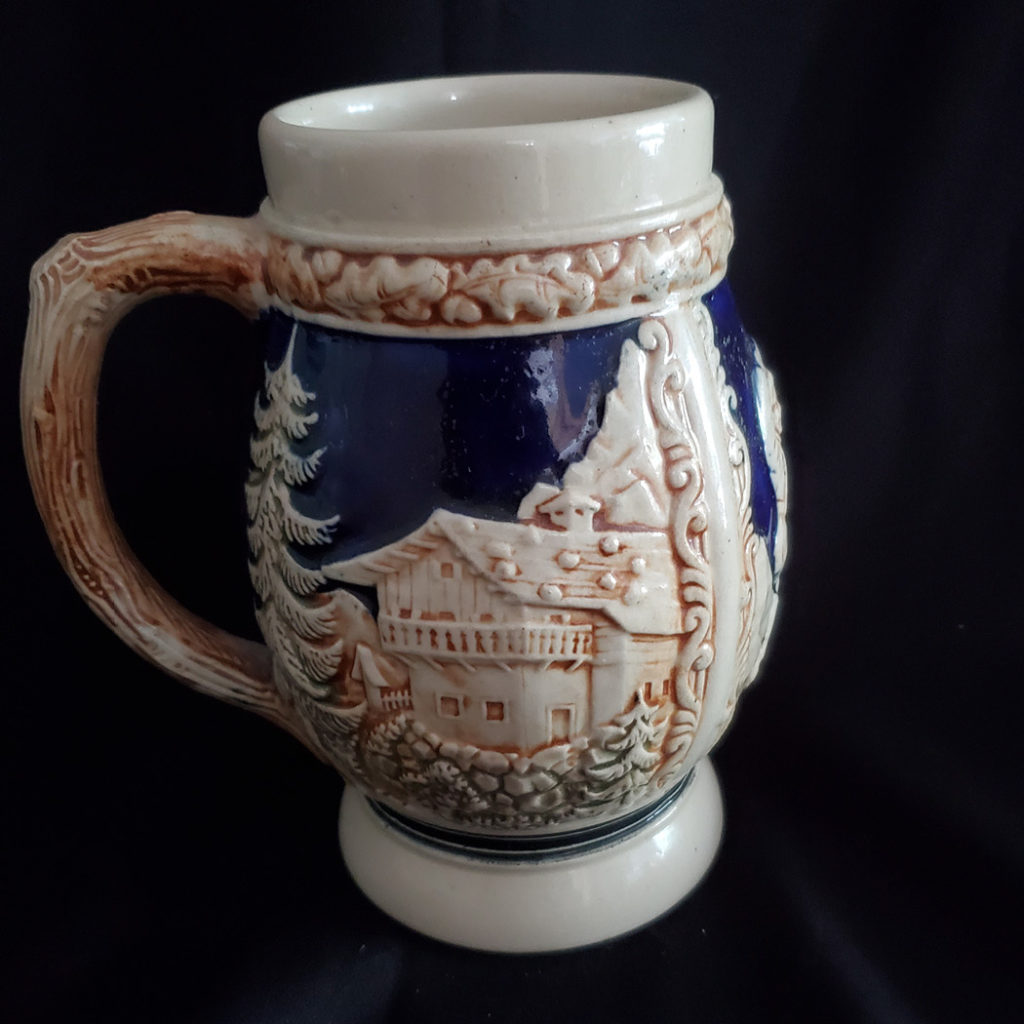 #1049 Old German stein marked Made in Germany 1920s 15 x 8 x 13.5 cm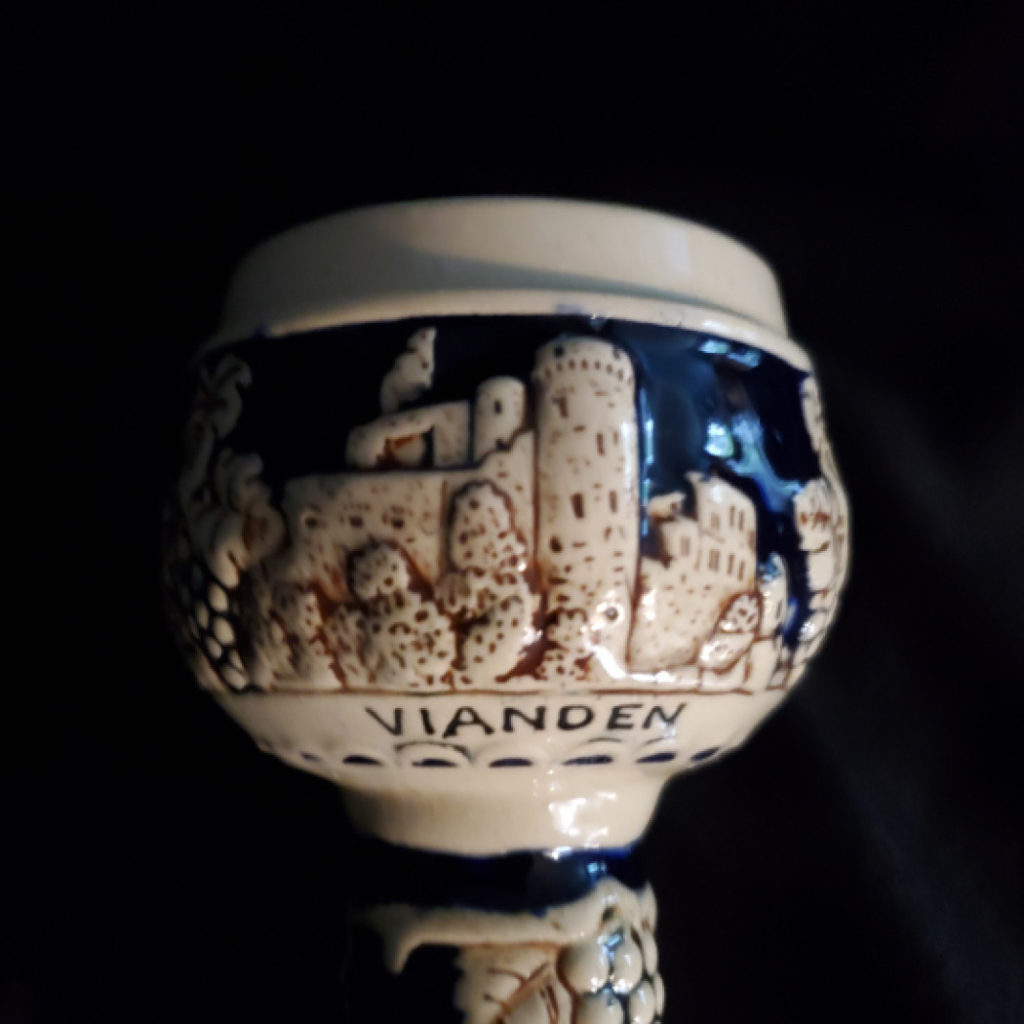 #1476 The goblet is inscribed Luxembourg and two cities, Echternach and Vianden, both in Luxembourg. I suspect this is mid century but may be older. It measures 8.5 x 14 cm.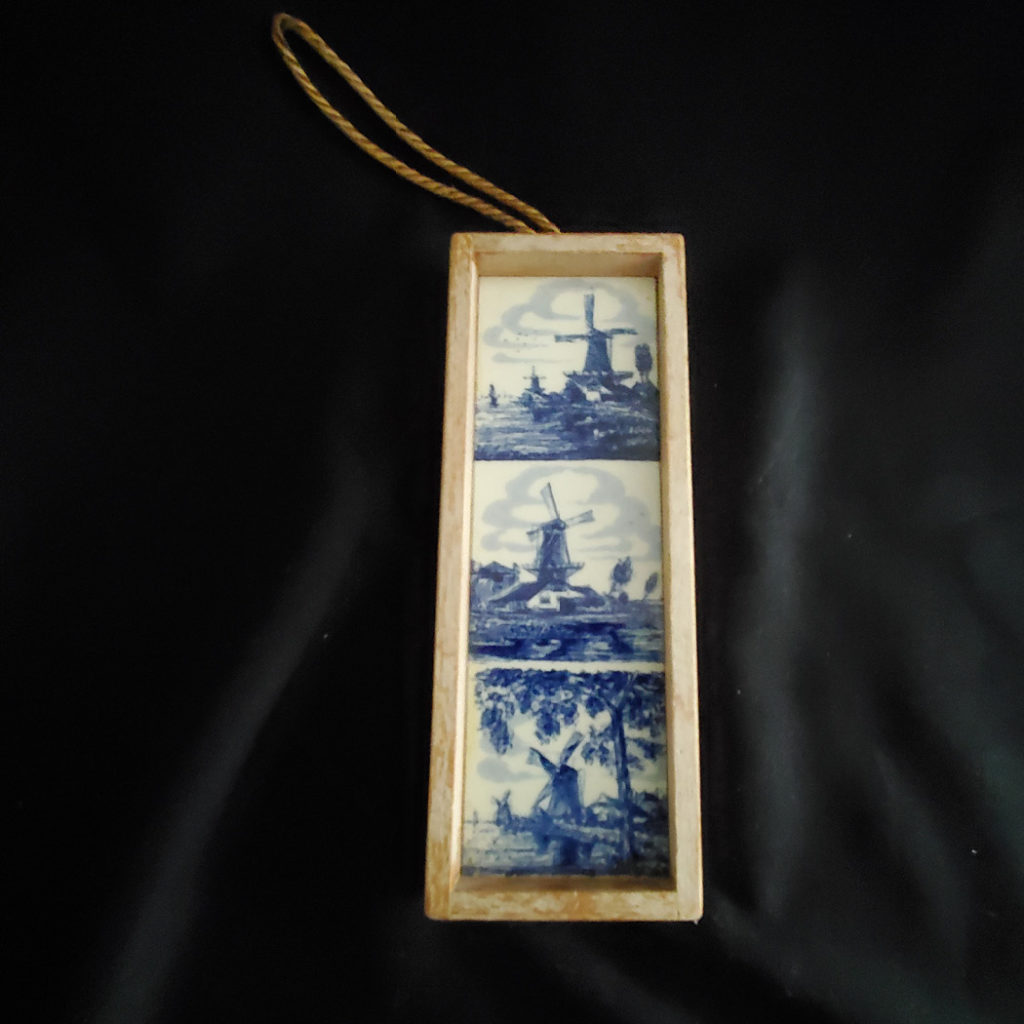 #1083 Delft tile from Holland – Netherlands are very nicely made with a rustic frame. 16 x 6 cm
#1084 Vintage Delft miniature clogs. They appear to be mid century. They measure 6.5 x 4 x 3 cm
#1085 These bowls appear to be mid century from the 1960s. They are heavy and well painted. They are 13.5 x 8 cm.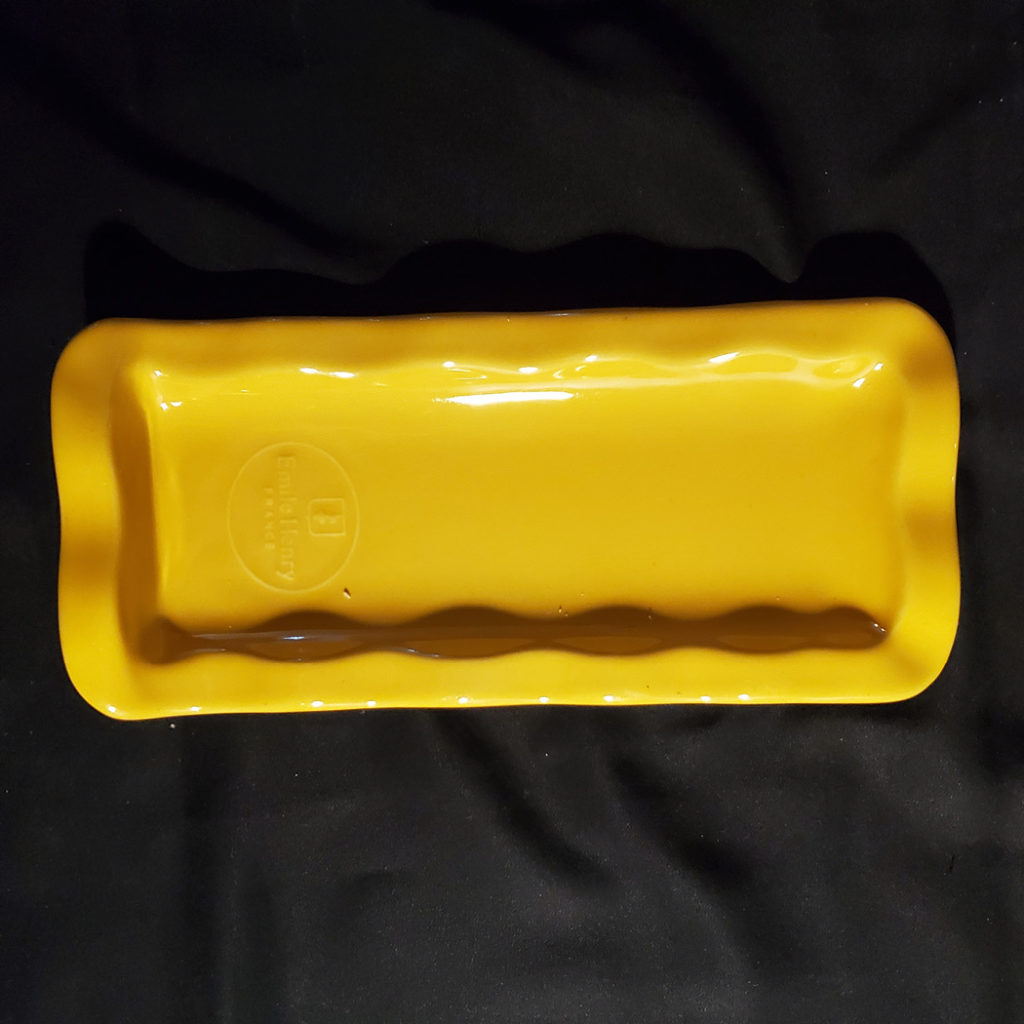 French spoon rest from Emile Henry $10
#1102 Emile Henry is a family company in Marcigny, Burgundy, France, operated by the great grandson of the founder. While this spoon rest is not very old it is a wonderful example of fine French ceramics with strong bright colour for home decoration. This measures 22 x 10 cm and could also be used as a serving platter as it is not as obvious as a spoon rest (the only clue is the almost imperceptibly raised end). These sell for about $35.
#1241 I do not recognize the mark on this bud vase and presume it to be modern but I cannot tell the age. It is very attractive and unusual. It measures 5 cm x 5 cm.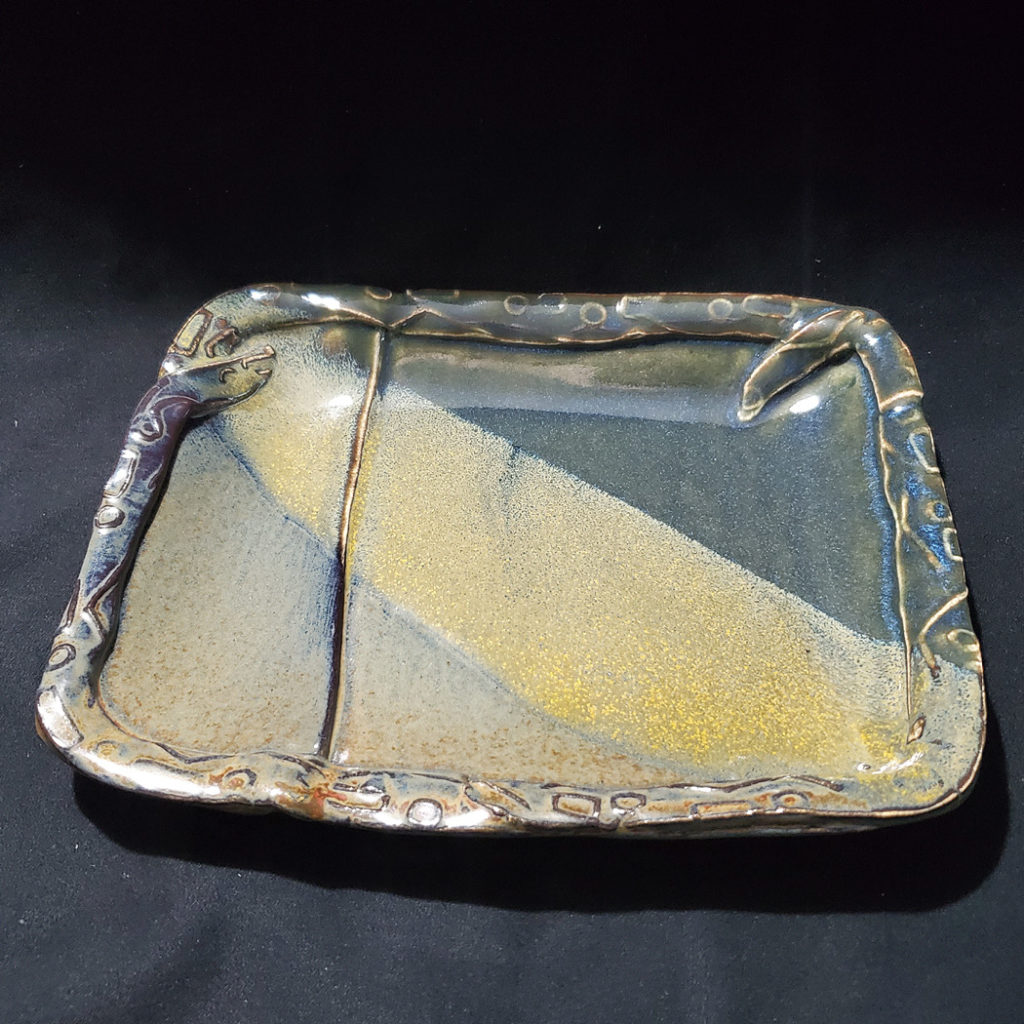 #1242 Another piece I cannot identify. Unknown if this is an experiment, or a hobbyist or what the artist intended. Looks a little unusual. Measures 21 x 16.5 x 2.5 cm.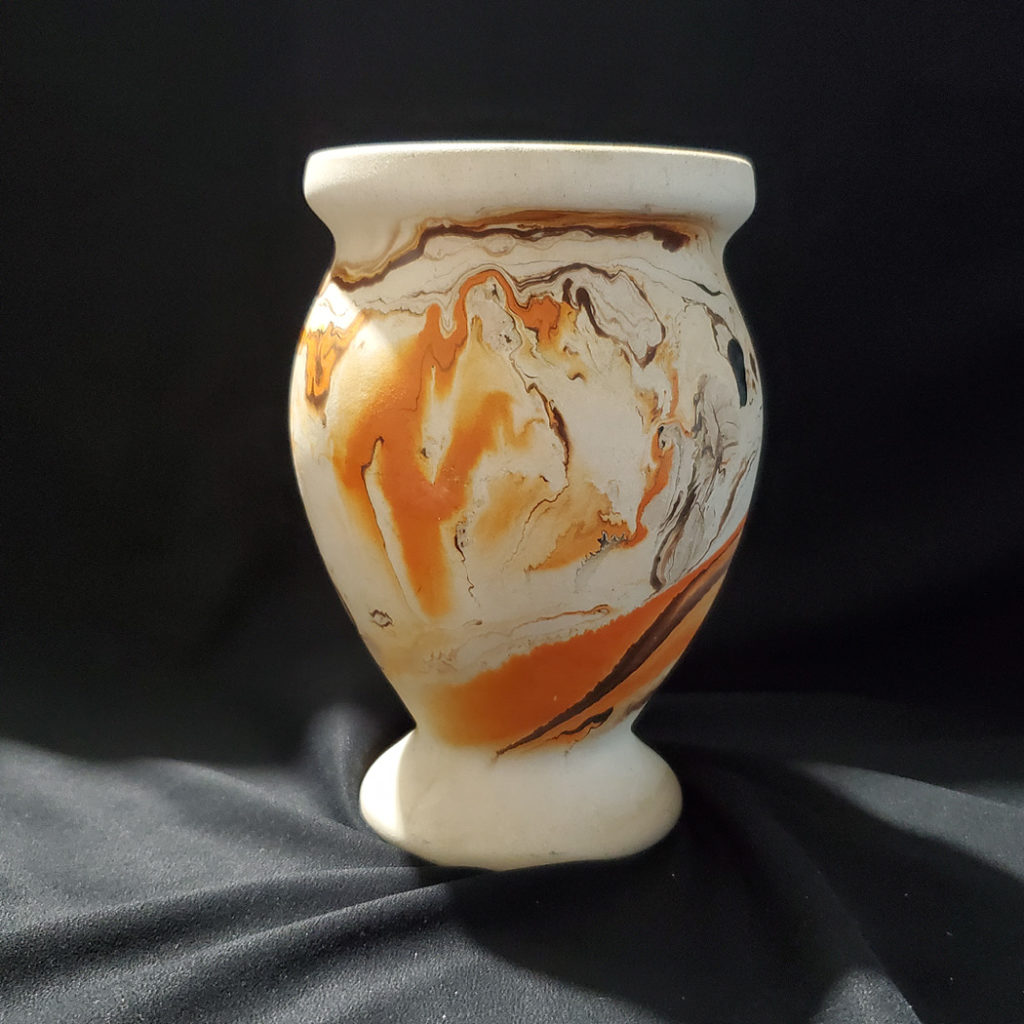 The "South West Pottery that isn't" says one article. The stamp says Nemadji Pottery. It used to go further and once said "Nemadji Indian Pottery native clay." By the 1950s the label read what it does now. The name means left handed in Ojibwe. Nemadji claimed that the same clays and shapes were those used by Native Americans. That is also a fabrication. So, this is a story about racist appropriation for the purpose of marketing. The pottery did become a part of American ceramic history, iconic and coveted for its flowing designs.
Nemadji started out in 1923 as a ceramic tile company in Moose Lake, MN. Danish immigrant Eric Hellman created the original thrown pottery needed to fashion molds for mass production. Hellman also modernized the Nemadji kilns, trained the company's workers, and introduced the "cold striped" painting process which gave Nemadji pottery its multi-colored swirls.
Most Nemadji pottery was molded from either a colored or white clay, fired and left in a bisque (unglazed) state. Different colored paints were floated on top of a vat of water and a small bit of vinegar was added to help separate the paints. Using a technique similar to marbling paper, the fired vase was hand-dipped into the water and swirled in the floating colors. The pieces did not have to be refired and dried quickly, creating uniquely decorated pots every time.
Nemadji was certainly not the first manufacturer who decorated pottery with a marbled effect. English agateware, mochaware, European ceramics in the 19th century and some Japanese ceramics as far back as the 16th century all used swirled clays or glazes to approximate the rich veining of marble. In the late 1920s, firms such as Niloak of Arkansas and Desert Sands Pottery of Nevada made vessels of colored clays swirled together to create a marbled effect. The vase measures 15 x 10 cm.
#1247 Vintage pottery sake set made in japan. The label gives an idea of the period as this label was used in the 1960s. Interestingly, Japanese sets tended to have odd numbers like this one. The bottle measures 14 x 5 x 6 cm and the cups measure 4 x 4 cm.
#1248 Bristol style crock. Unmarked, probably made in England, possibly Powell Bristol in the mid 19th century (1830s-1860s) 16 x 13 cm.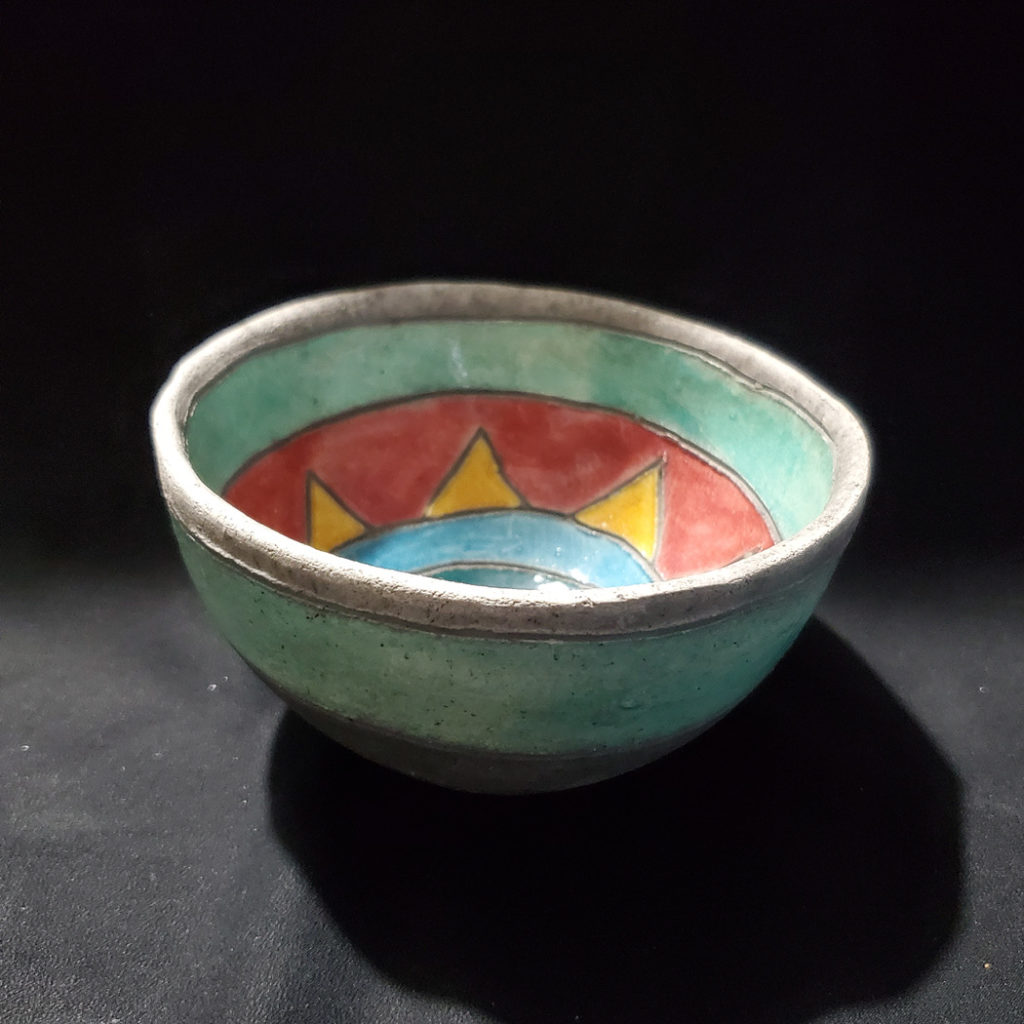 #1249 Hand made bowl matte glazed or painted on grey-black clay. 12.5 x 6.5 cm
#1250 Bowl with no glaze on the inside and a texture instead. Made in Japan. 15.5 x 7 cm.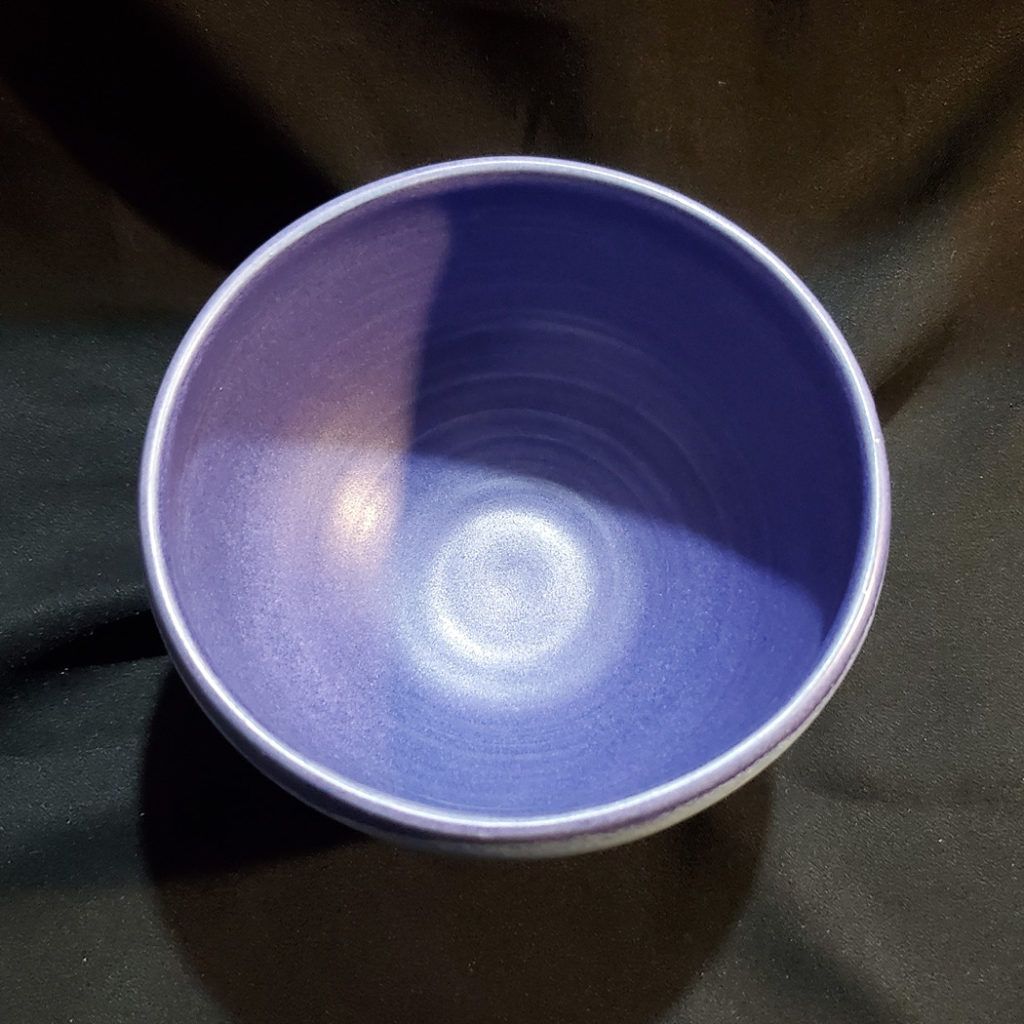 #1104 Pottery bowl signed by Deb. I really don't know anything about Deb except she loves pottery, uses some interesting colours like this bright purple and she signs with a heart. The bowl is 10 x 7 cm.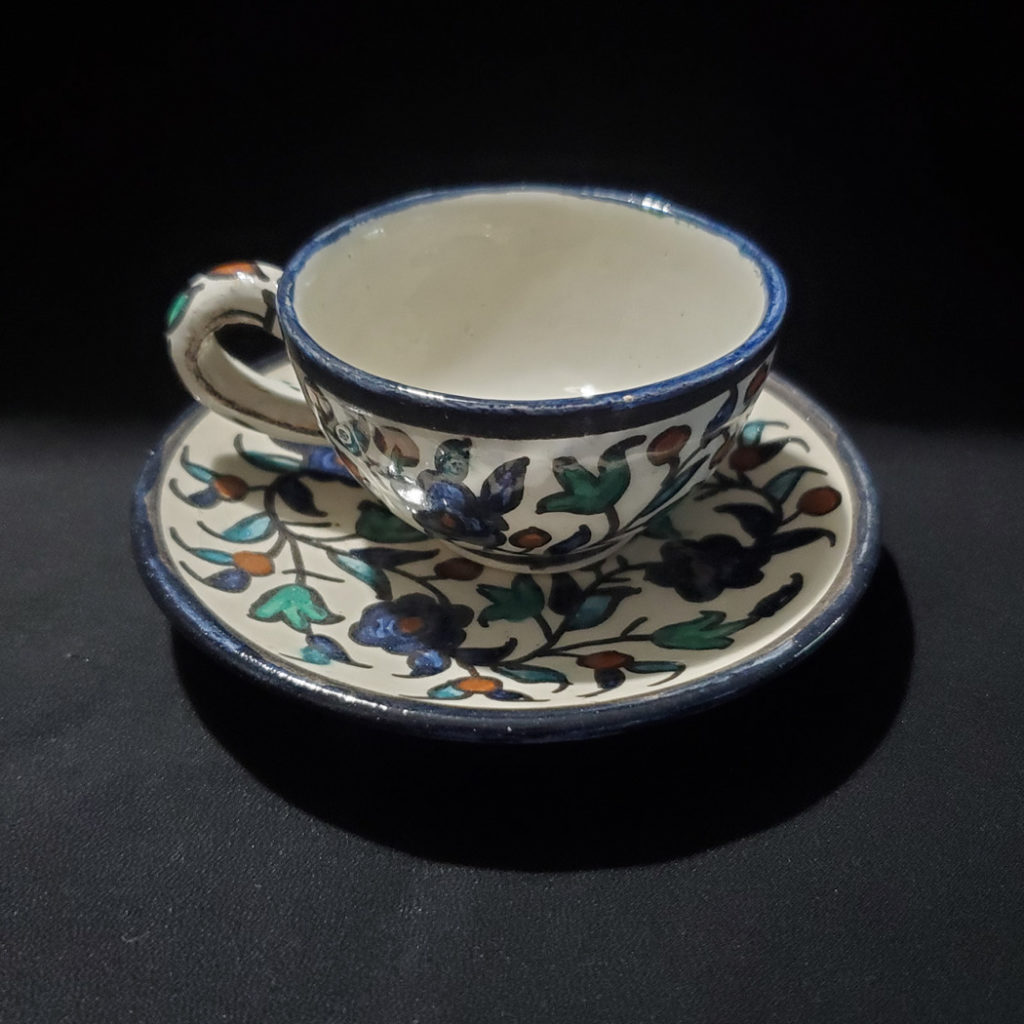 #1245 This teacup is marked Jerusalem in Roman lettering and also has an Armenian inscription. The story about this artform is an interesting one. The work IsIznik fritware in style. Three Armenian families, known for their pottery, were invited in 1919 to retile the Dome of the Rock. They stayed and have developed the Armenian Jerusalem pottery that is still produced today. In the 1960s one of those familes also was commissioned to work on the Arabic and English street signs of the old city. You can learn more about this story here. This cup has been dated to the 1960s.
The cup measures 9 x 7 x 4 cm and the saucer is 11.5 cm across.
#1243 This bowl is large and attractive. I am not sure where it was made but it is studio pottery. It measures 24.5 x 5.5 cm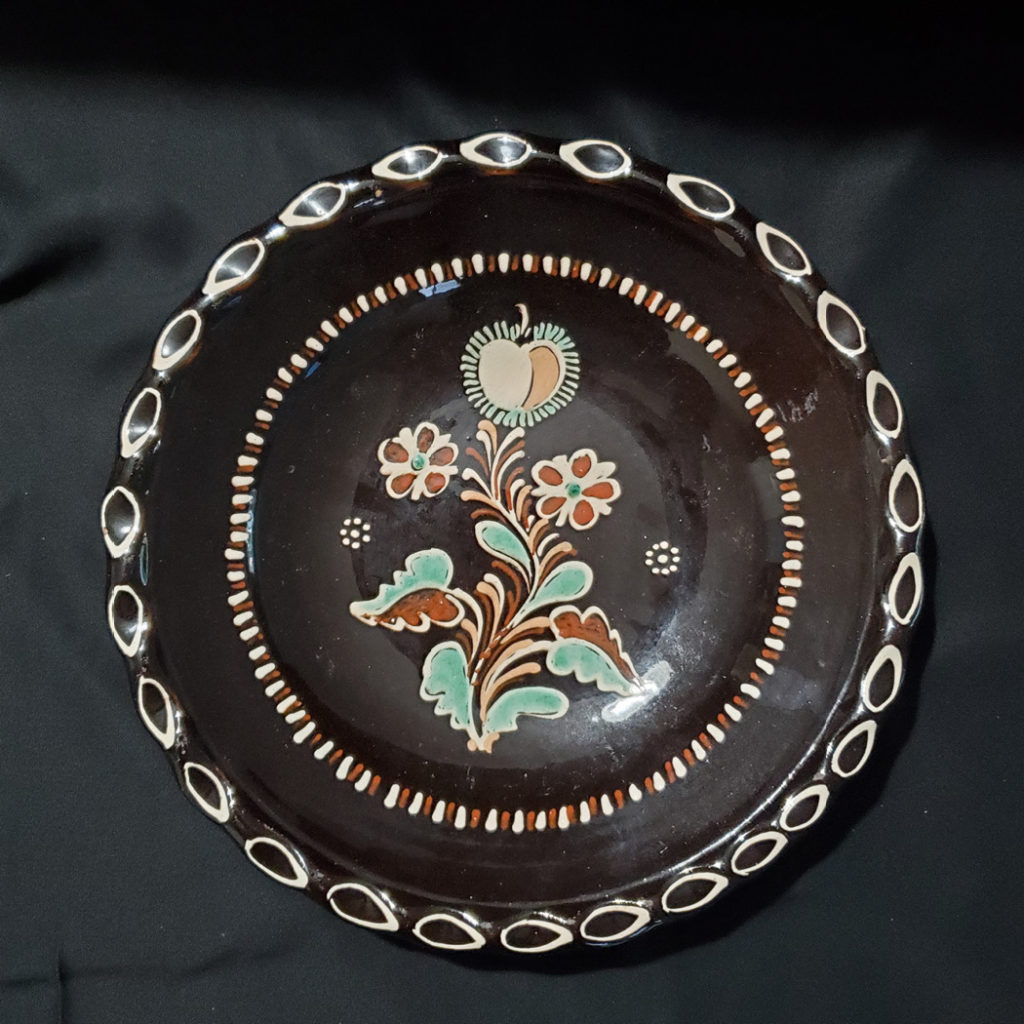 #1244 An application was made last year to Unesco to recognize Hungarian folk art pottery. The application was prepared by the Museum of Hungarian Applied Folk Arts. the city of Karcag is famous for its folk art pottery. It measures 25 x 5 cm.
#1105 Gordon Pottery was a well known ceramics shop in Salem (north of Guelph, Ontario) during the 1970s. This table vase is a nice large vintage piece with a design that was one of their most popular. It is 14.5 x 15 x 11 cm.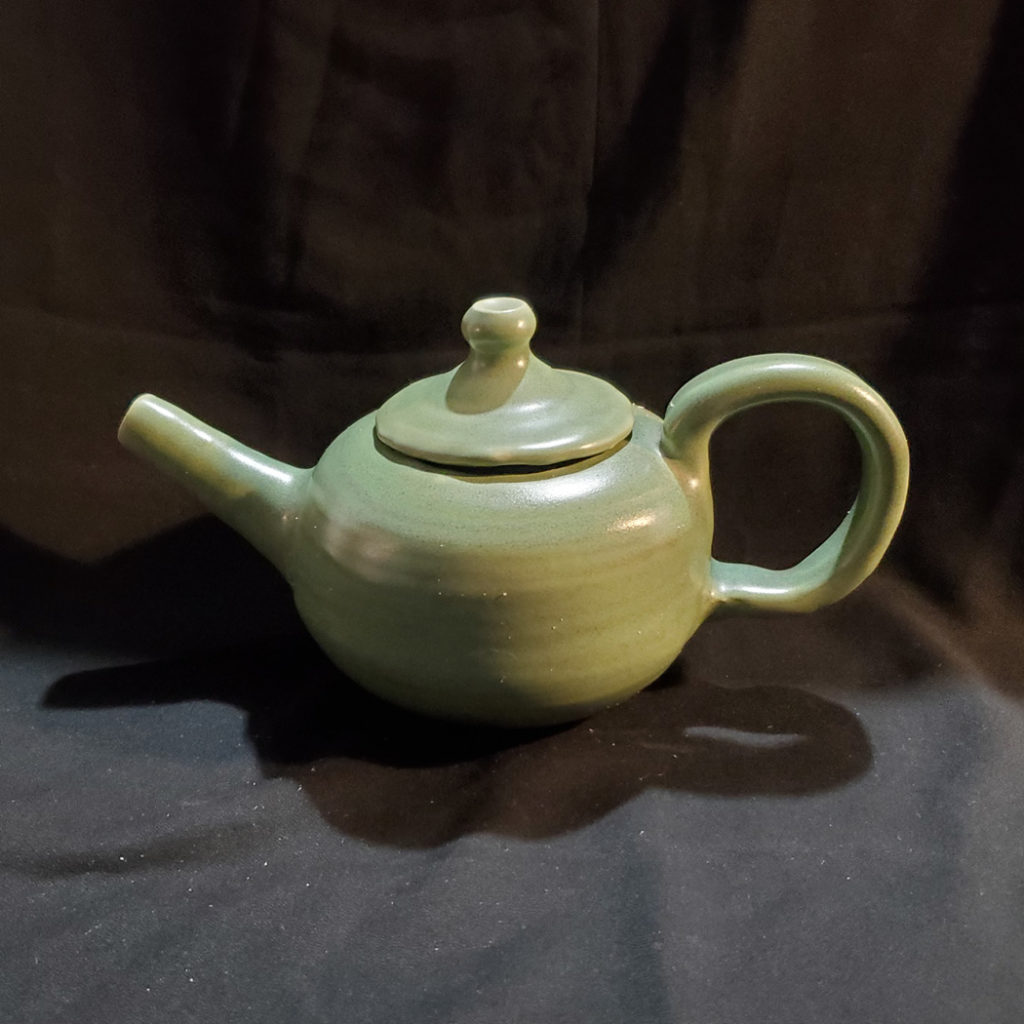 #1106 This teapot has an interesting scalloped lid, a soft mossy colour and generous proportions for the handle and the spout. I have not been able to identify the maker but it is clearly a studio piece.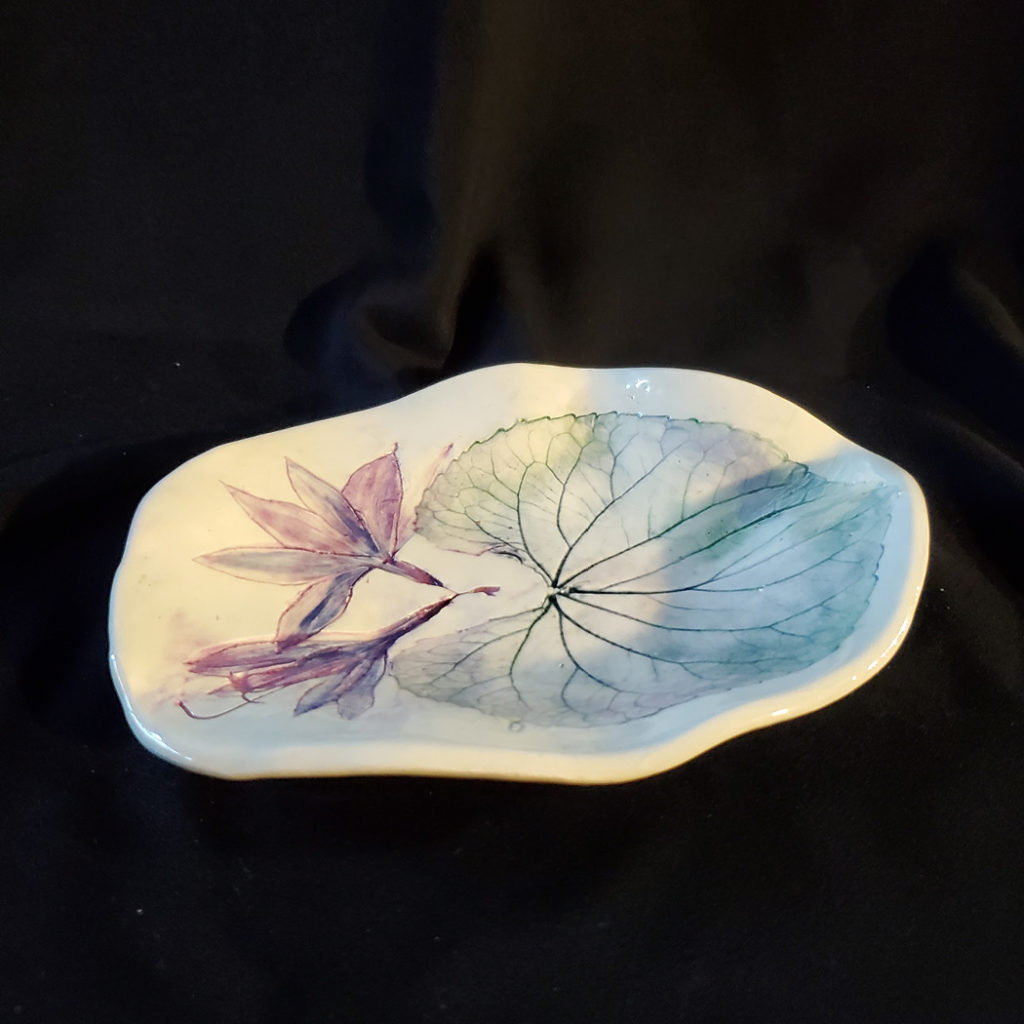 #1526 Art pottery dish signed by the potter. It measures 15 x 11 x 2 cm.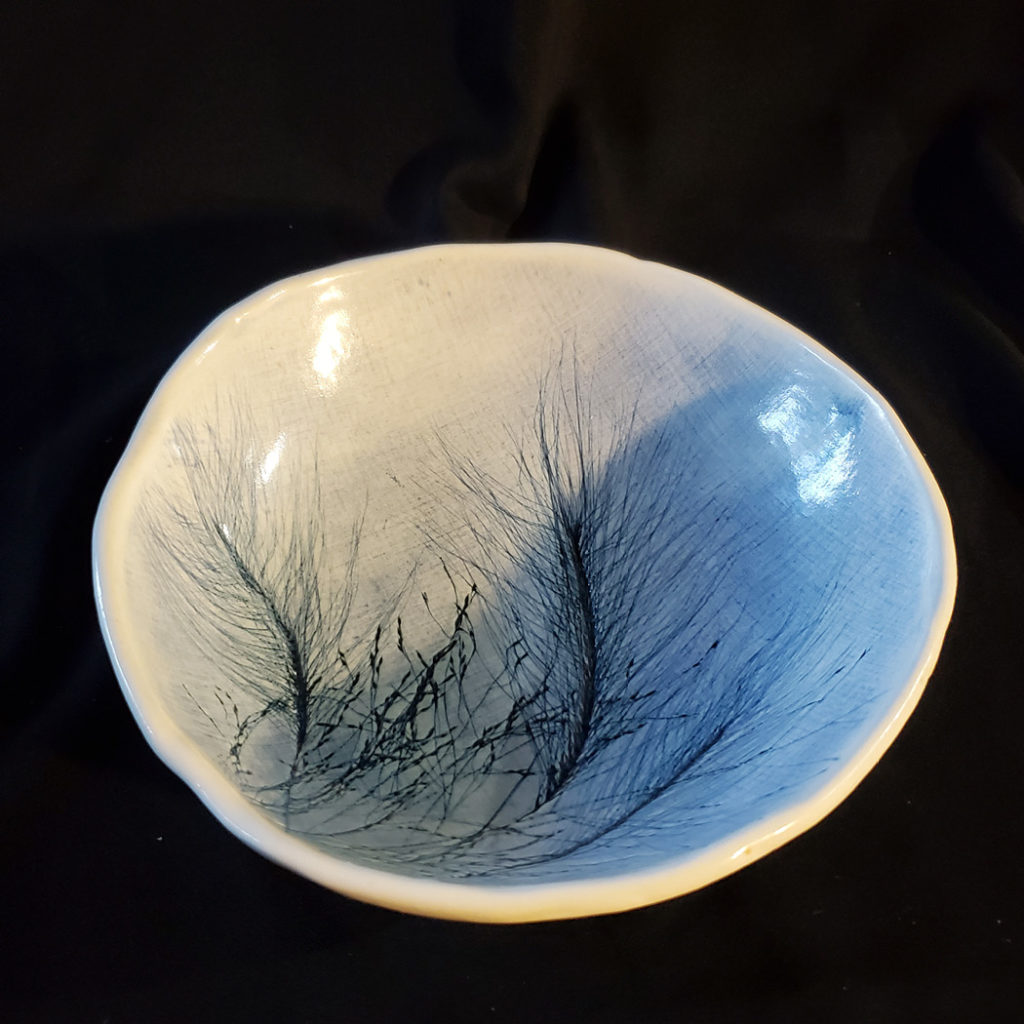 #1527 This attractive bowl with a glazed painting. It measures 16 x 4 cm (width x depth). It is made in Eastern Ontario. It has a beautiful blue colour.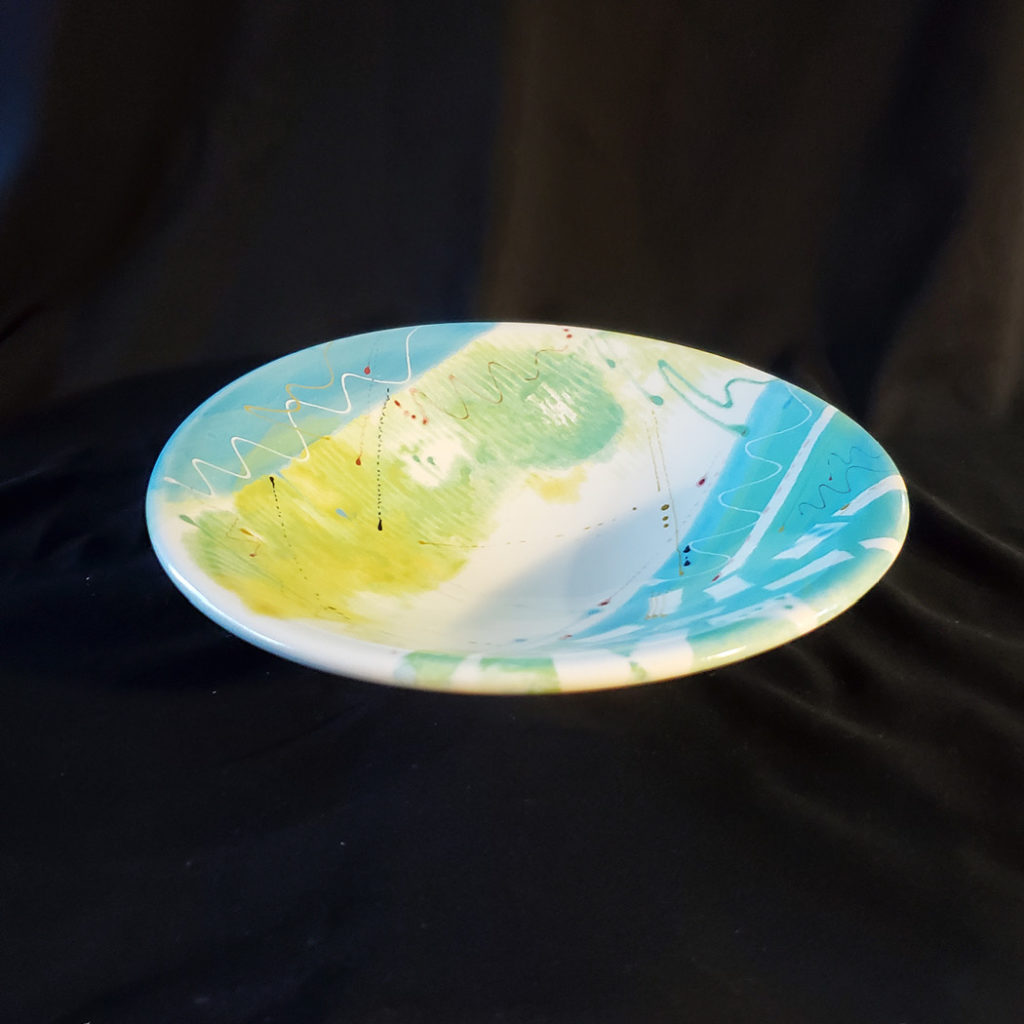 #1528 This art pottery bowl appears to be made by Darlene Keffer judging by the way Keffer is signed. She is based on New Brunswick. I do not know what the first part says whether it is Karton or Art on. I looked to find other Keffers but there is no record of potters other than her with this name and this is clearly Darlene Keffer's style. As well she has links to the Ottawa region if you read her bio.
#1144 I was not able to trace much information on Mud Works England. It seems like they operated for a short time. It measures 6.5 x 7 x 3.5 cm. I suspect it was made in the 1970s.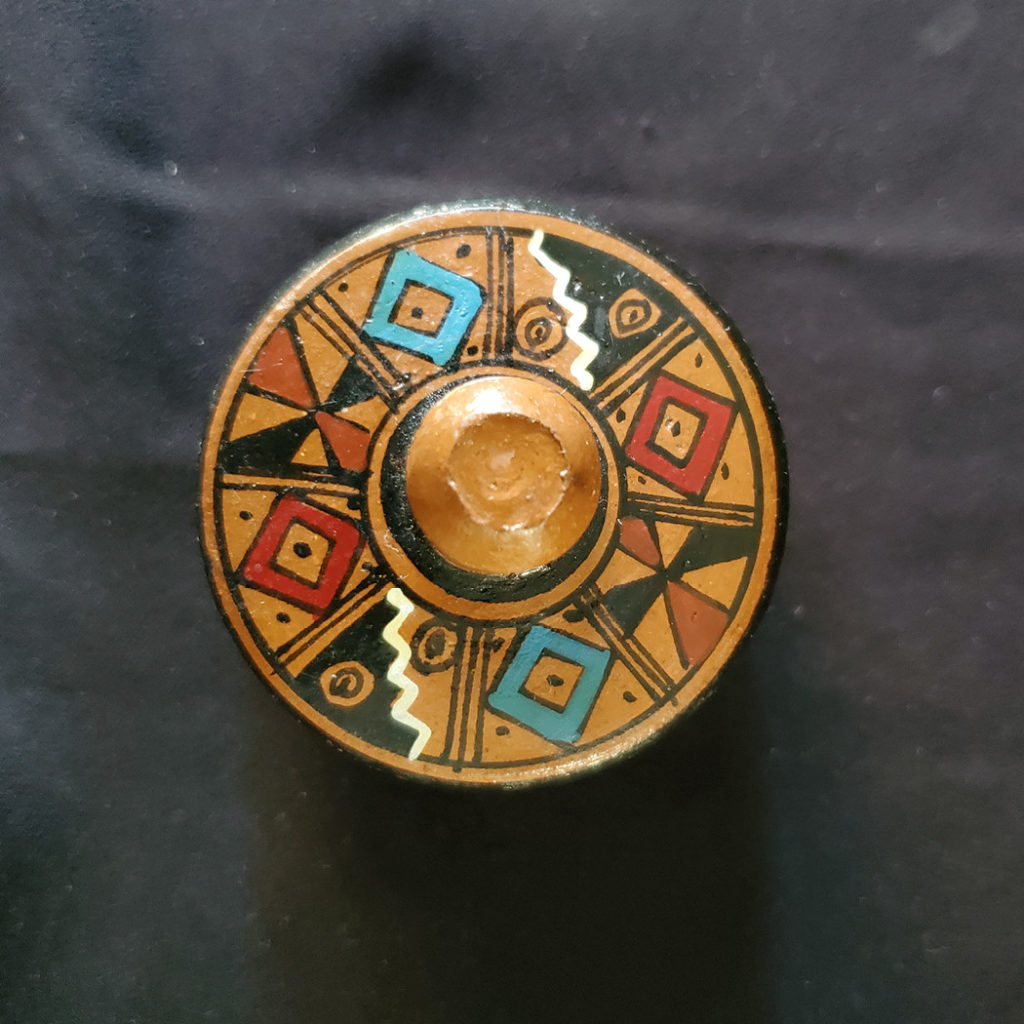 #1563 Small red clay trinket box measures 5.5 x 6 cm.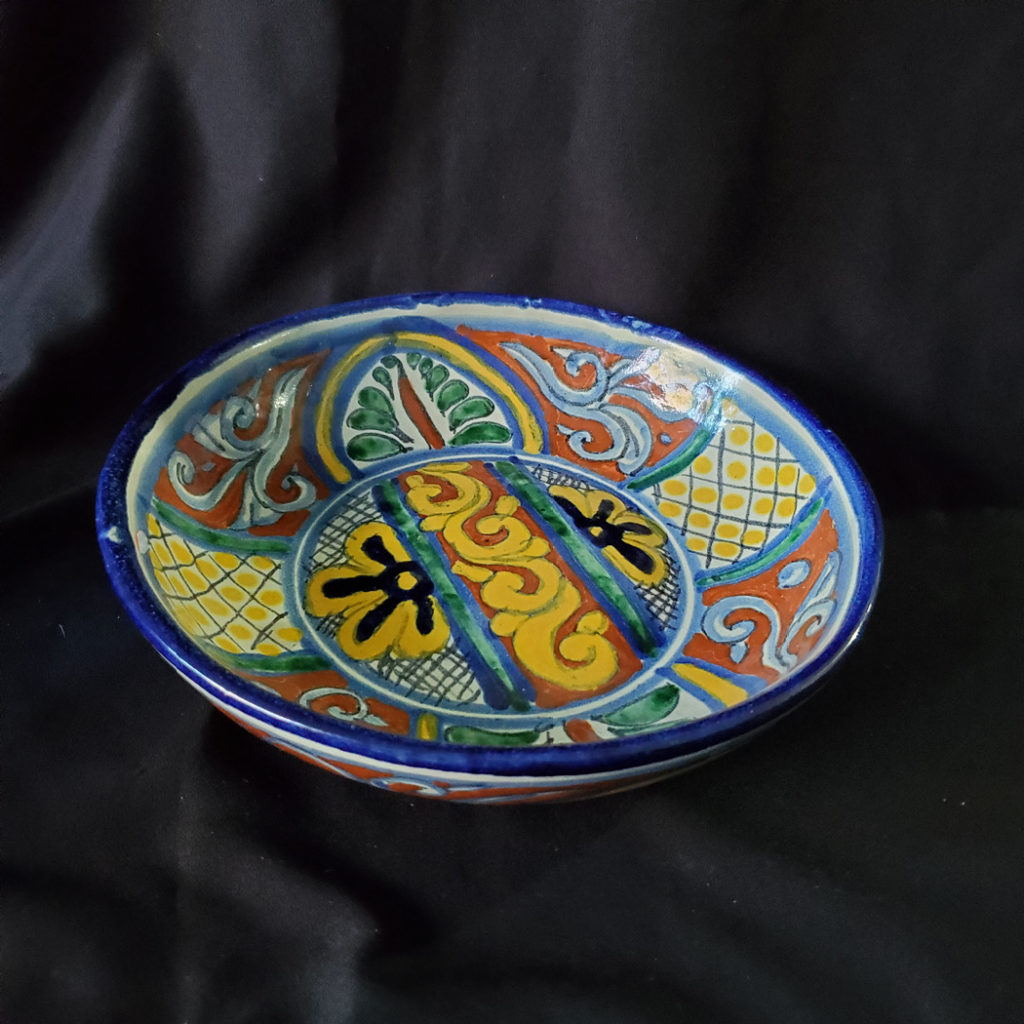 #1555 This bowl is beautifully decorated but not signed. I do not know the origin. It measures 19 x 4 cm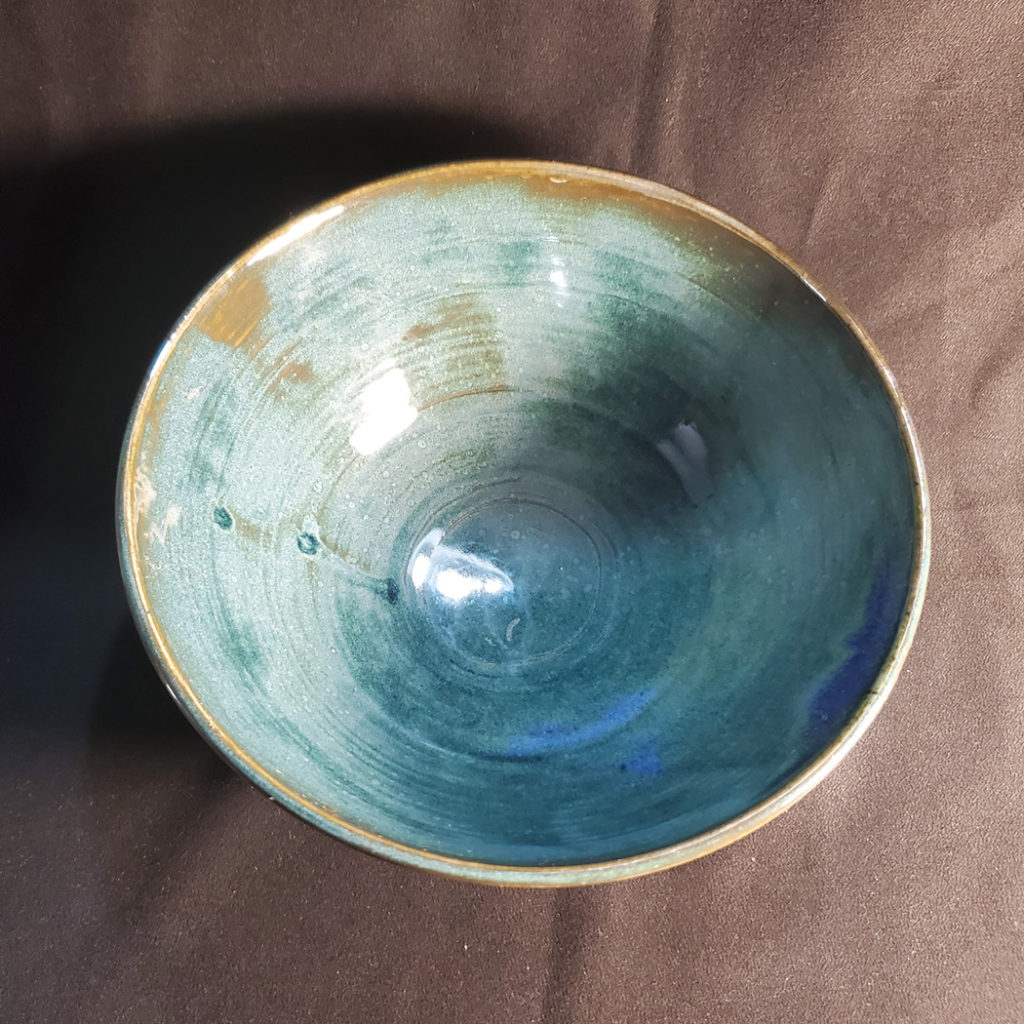 #1148 John Kobzey is a member of the potters guild of Ottawa and is in his 90s. He has produced wonderful Pottery for many years. This bowl is at least 20 years old. It measures 16 x 7 cm.
#1149 This is a wonderful blue coloured table vase signed by Ada. It measures 12 x 13 cm.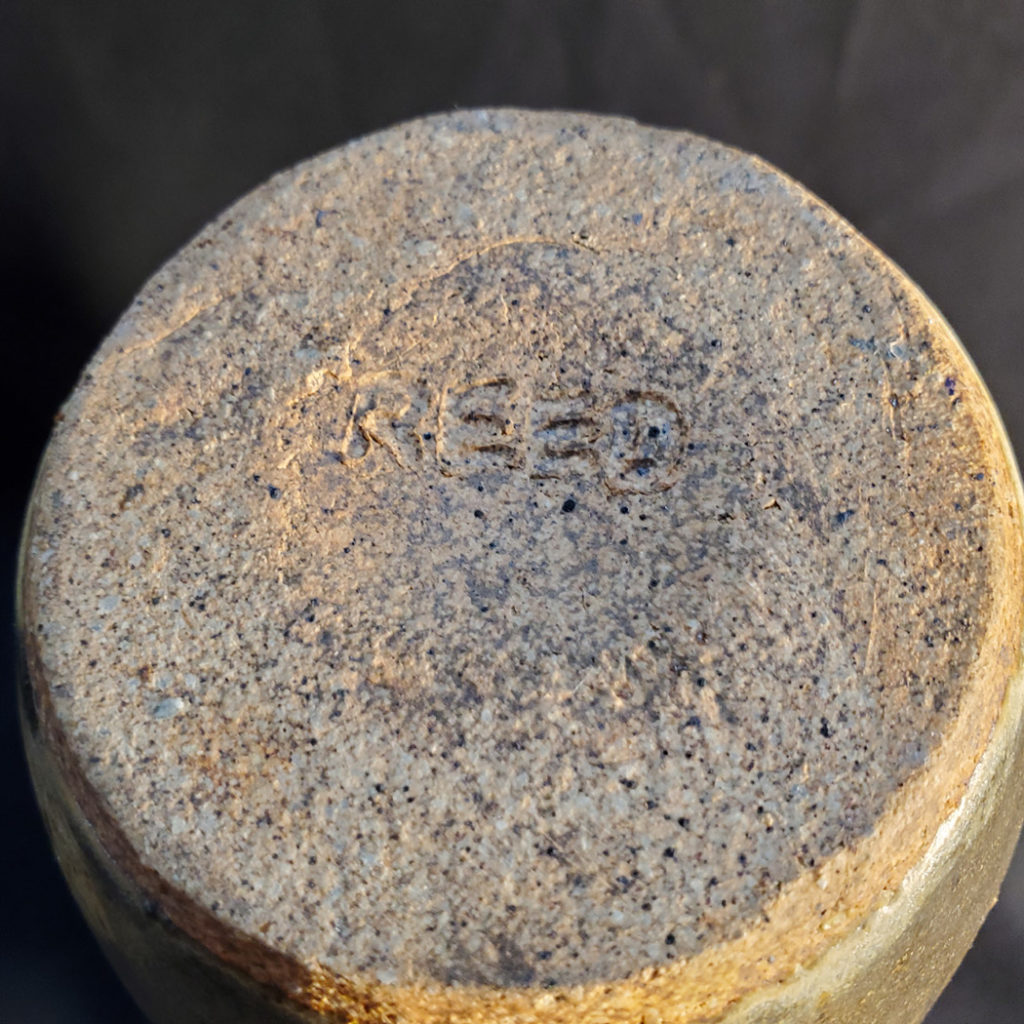 #1150 This Mid Century Modern style vase is signed by Reed. It is not known how old it is. It measures 14.5 x 9 cm.
#1151 This mid century modern vase has a distinctive signature that may be found, although I have not located it. It is known to be at least 30 years old. It measures 16.5 x 10 cm.
#1152 There is a signature on the bottom of this bowl but I cannot make it out. The bowl comes from the 1980s or earlier. It measures 8.5 x 13 cm.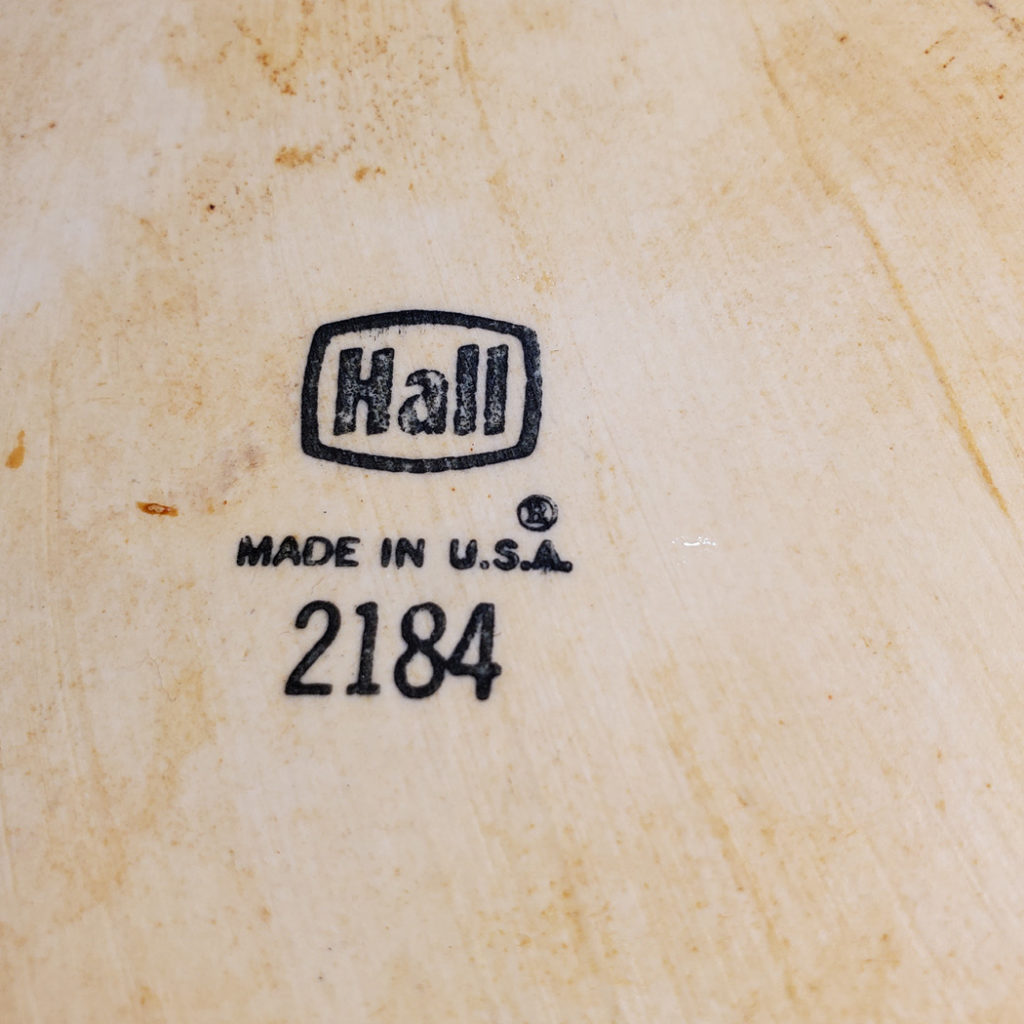 #1153 Stoneware platter from the 1970s in the yellow mustard colour popular at the time that is sought after today. Made in the United States. It measures 30 x 21 cm. It will support a vintage look or blend well with modern quality kitchen pieces.
#1160 Medicine Hat Alberta became a centre for clay products and pottery in the early 20th century with Medicine Hat Potteries Co. The company name was changed to Medalta in 1924. This piece is therefore dated between 1912 and 1924. this shape is less common than the ball-shaped jugs from the period. It is 21 x 16.5 x 15 cm.
#1161 These classic jugs were made for many years so there is no sense trying to date it. This one is unmarked which is likely a result of wear. They were stamped in black. The shape is quite specific. It measures 22 x 18 x 12.5 cm.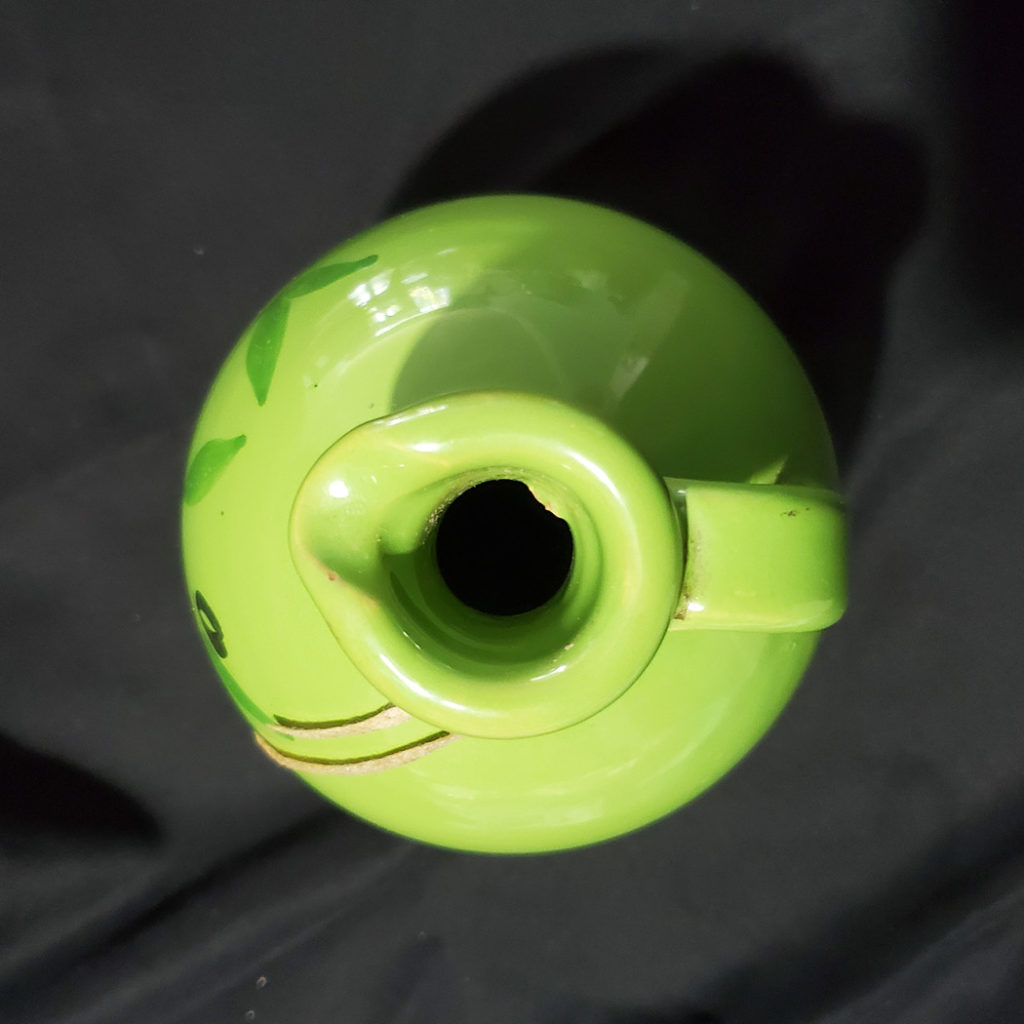 #1286 These jugs were probably sold with olive oil in them as a special marketing campaign some time ago. It is a very nice jug that can be used again for the purpose. I do not think it is very old, but still it is a great hand made piece to fit in with mid century décor scheme.
#1253 Black Creek Village is a village in Toronto set in the 1800s. People can visit and see how people lived then. It is similar to Upper Canada Village. They produce objects there in the way they were made in the 1800s and people can buy them in the giftshop. Naturally, they held major events for Centennial year. It measures 7.5 x 7 x 4 cm.
#1239 Perhaps a student or experimental vase from over 50 years ago. It is a very nice pencil holder. It measures 8.5 x 7 cm.
#1529 Paul Pannier was a well known Quebec potter during the mid century. He was born in Saint-Pierre-et-Miquelon in 1923 and died in Montreal in 1993. The cups measure 5.5 x 6.5 cm.
#1530 This is a small miniature tea set. Each cup is barely 2 cm and the dish on the bottom is only 10 cm. The work in this is exquisite. I do not know origin. There is a chip on two pieces. The worst of those is on the rim of the teacup on the lower right in the picture with them on the plate.
Pottery
Pottery is one of the oldest things humans have manufactured and its development is how we date and mark early civilizations. There are three main groups of clay pottery: earthenware, stoneware and porcelain. Earthenware is heated at the lowest temperature whereas the firing of porcelain is at the highest using specific clay.
Fritware or stone paste which is what Iznik pottery and other middle Eastern pottery is made from is different. Pottery can be decorated before or after firing. Some of the pieces I have are painted porcelain where fired pieces are painted and then fired again.